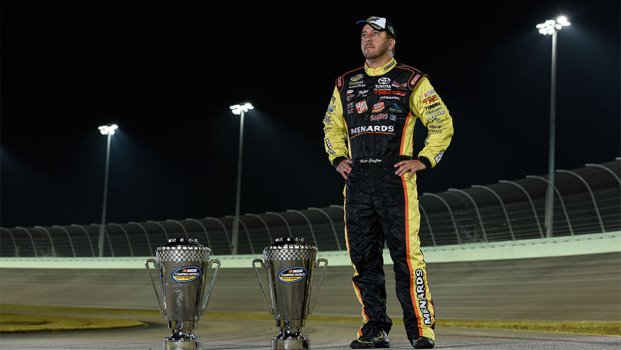 Two-Time NASCAR Camping World Truck Series Champion To Race Kalamazoo Klash XXIV
kalamazoo
Kalamazoo  Speedway  officials  are  excited  to  announce  that  Two-time NASCAR  Camping World Truck Series Champion Matt Crafton  will  race in this  years  Kalamazoo  Klash.  The 24th Annual  Klash,  on  Wednesday  night,  August  10,  is  one of the  keystone  events  on  the  exciting 2016 calendar  at  "The Zoo".
Matt Crafton drove his way into the NASCAR history books in 2014, becoming the first NASCAR Camping World Truck Series (NCWTS) back-to-back champion, winning titles in 2013 and 2014. In a season that was characterized by success, 2014 marked the first time in Crafton's 15-year career in the NCWTS to win more than one race in a season, prevailing at Martinsville (Va.) Speedway and Texas Motor Speedway in Fort Worth. The Tulare, California native extended his NCWTS record for consecutive starts to 338, recorded 13 top-five finishes, more than any other season in the NCWTS, and led a career-high 298 laps in 11 races.
This  years  Klash  race  day  will  be  jam-­packed  full  of  activity,  including  practice  and  qualifying  for both Late   Model   classes,   an   all-­driver autograph   session   with   both   classes,   last   chance event(s),  and  250-laps  worth  of  feature  racing  on  the  3/8  mile.
The  ARCA/CRA  Super  Series  125 lap event will  arguably  see  the  best  template  Late  Model drivers  anywhere,  with  names  like  Brian Campbell, Johnny VanDoorn and current ARCA/CRA Super Series point leader Cody Coughlin.  2015 NASCAR Camping World Truck Series champion and current NASCAR Xfinity Series Chase Grid leader Erik Jones  will  climb  behind the  wheel  of a KBR development house car  in  search  of  another  ARCA/CRA Super Series win  and  his  first  at  Kalamazoo  Speedway.
The  big  dance  will  be  the  24th  annual  running  of  the  Kalamazoo  Klash  on  the  high  banks,  featuring three-time defending Kalamazoo Speedway outlaw Super Late Model champion Mike "Bubba"  Brooks,  four-time race  winner  Terry  Senneker, Steve Needles, Tyler Roahrig and several others.  Crafton, who finished an impressive 4th in last year's event, will be looking to add his name to the list of winners in this marquee event.