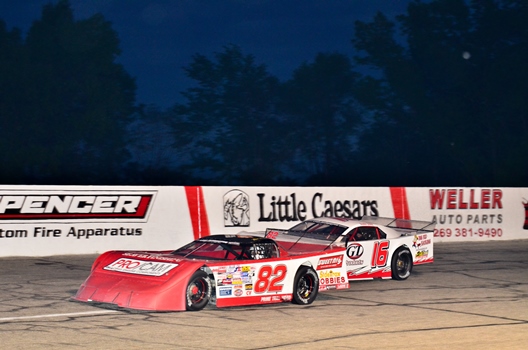 Thomas Becomes Sixth Different Winner in Six Races @ the Zoo
kalamazoo
Veteran Tom Thomas charged from twelfth starting spot all the way to victory lane in the NASCAR Whelen All-American Series Outlaw Super Late Model feature Friday night at Kalamazoo Speedway.  In doing so Thomas became the sixth different winner in the first six events of the season.  1995 Super Stock champion Billy Shannon finished a solid second ahead of 3-time defending champion Mike "Bubba" Brooks, Matt Frazier and point leader Rick Senneker.  Former Plymouth Speedway Late Model champion Adam Terry led the second half of the top ten over Bill Tomlinson, former South Bend Speedway Late Model champion Brandon Zachary, Jeff Bozell and veteran Jerry Zachary.  Notable finishers included Mark Shook, who set fast time but finished a disappointing 15th.  Brooks and Terry won the heat races.
The Super Stock division saw an upset winner as Cory Pressler took advantage of defending champion Buddy Head's late race mechanical problem to pick up the victory.  Cory's brother Nick Pressler finished second ahead of David Guarino, four-time track champion Kenny Head and defending Outlaw Cyber Stock champion Keegan Dykstra.  Another former Outlaw Cyber Stock champion, Jerry Jansen Jr., finished sixth ahead of fast qualifier Buddy Head, Jordan Hunderman, Andrew Behlke and Gary Denzel.
Greg Brown started dead last in the ultra-competitive Pro Stock division and when the smoke cleared he was the man in victory lane.  Brown held off Barry Jenkins, Keith Wilfong, Travis Hall and defending champion Matt Corliss for the victory.  Danny Oxford finished sixth beating out Matt Maurer, John Russell, Josh Roberts and Duane Procter.  Brown also set quick time.
The Southwest Michigan Mini Stock Challenge Series was on hand Friday night and saw Jerime Damron collect the 25-lap feature victory.  Damron held off Matt Noble, fast qualifier Andrew Brest, Marcus Carlson and Kyle Shannon to pick up the victory.  Doug Gallandt led the second half of the top ten over Curtis Towne, Ryan Stutz, Noah Clark and Aaron Zimmerman.
The Super Stock division was not the only division with an upset winner on Friday night.  The Outlaw Cyber Stocks also saw an upset as Nick Layman held off point leader and fast qualifier Dan Rigoni by just 0.843 seconds to win the 20-lap feature.  Brian Gregersen finished third ahead of Jeremy Young and Pete Doxey.  Larry Richardson finished sixth beating out Doug Nelson, Mason Dykstra, Danny Rigoni and Ricky LaDuke.
The fan favorite Flip Flop Cyber Stocks put on a fantastic show with Josh Nyberg emerging victorious over Travis Reniger in a literal photo finish.  Fast qualifier Lane Head finished third beating out Nick Failing and Tony Lobretto.  The second half of the top ten was led by Joey Failing over Ken Lemmer, John Hayter, Brian Clinard and Marilyn Lambert.  Notable finishers included opening night winner Valerie Bozell, who finished 12th.
This Friday night, June 24 the action continues with another Full 5 in 1 NASCAR Racing program featuring the NASCAR Whelen All-American Series Outlaw Super Late Models.  The Super Stocks, Pro Stocks, Outlaw Cyber Stocks and Flip Flop Cyber Stocks will also be in action.  Friday night will also see the return of the fan favorite Spectator Drags, which will be run during the intermission.
Kalamazoo Speedway will be the place to be in 2016 for fast, clean, family fun! The full 2016 Kalamazoo Speedway Schedule can be viewed at www.kalamazoospeedway.com. Kalamazoo Speedway plays host to some of the best entertainment events in the State and welcomes corporate groups, family outings and suite rentals. Call 269-692-2423 Monday through Friday to learn more or visit the Kalamazoo Speedway website.
For all the latest news and contests check out www.facebook.com/KalamazooSpeedway.
You can also follow Kalamazoo Speedway at www.twitter.com/kzoospeedway.