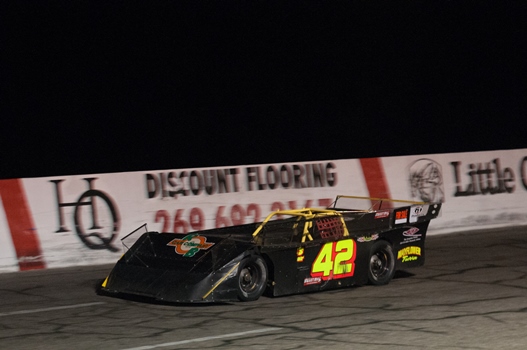 Super Shoe 2016 Camping Rules & Regulations
kalamazoo
Hello Campers, Welcome to Super Shoe XXX!!!
Kalamazoo Speedway strives to provide a SAFE, but FUN weekend for you! Below are the rules and guidelines for the weekend.  Make sure you read them over. Let's work together and watch out for each other to make this the best Super Shoe yet!!
The Camping Pass/Clean-Up Fee is $50 per camper unit for the entire race weekend.
Each camping spot will be figured approximately 20' wide x 50' deep.
There will be no saving excessively large camping spots. All tow vehicles & trailers will be parked across the street in the mowed field.
All spots must be paid for when you arrive with your camper.
"Homestead Signs" are required for each camp site. This must be weather proof and include a name and contact number for the camp site.
Fire Lanes must remain open at all times!! This is an Alamo Township Demand, not a request!
Quiet Time will be 12:00am-6:00am.
New to 2016-GOLF CARTS ONLY–No ATV's, scooters, tractors, lawn mowers, mini bikes, quads, side by sides, three wheelers etc!!
Golf carts will be available on site to be rented for the weekend. They can be rented Thursday night or Friday. The cost is $175 for the weekend. All golf carts are 4 seater and will be equipped with head lights. You will need a valid driver's license & a credit card to rent these carts from Golf Cars Plus.   They will have carts on premises on Thursday from 5-8PM and on Friday at noon!
All golf carts will be parked by 12am. They will not be allowed between 12am-6am.
Drivers of golf carts must be 16 years old.
Golf carts must be operated by someone not under the influence of alcohol.
No illegal substances or underage drinking will be tolerated on speedway property.
Kalamazoo Speedway is a weapon free facility.
No fireworks, sky lanterns, or candle balloons
For your convenience, we will be picking up trash at your campsite on Saturday and Sunday mornings! You have been provided a garbage bag so please help us clean up your campsite.  Please have your garbage on the edge of your campsite for pick up by 8am.
Kalamazoo Speedway Staff and Security reserve the right to remove someone from the property if they do not comply with the guidelines listed above.  All camping passes are non-refundable.
[gview file="http://www.kalamazoospeedway.com/wp-content/uploads/2016/09/SS-XXX-camping-guidelines.pdf"]