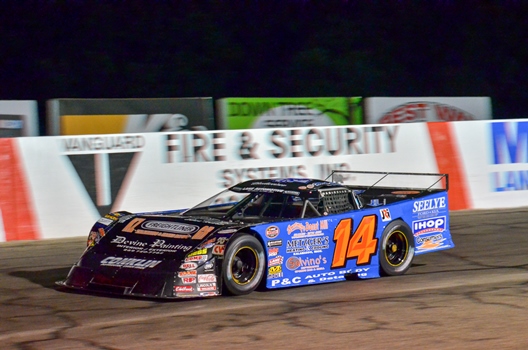 Shook Wins, Takes Point Lead @ the Zoo
kalamazoo
Mark Shook started deep in the pack, methodically worked his way through traffic and then passed three-time defending champion Mike "Bubba" Brooks in what would be the winning pass Friday night at Kalamazoo Speedway.  Brooks held on to finish second ahead of Matt Frazier, 1995 Super Stock champion Billy Shannon and former Plymouth Speedway Late Model champion Adam Terry.  Fast qualifier Tom Thomas led the second half of the top ten over Rick Senneker, 2011 champion Phil Bozell, Chris Garrett and Tyler Heeney.  Mike Zordan and Bozell won the heat races.  With the victory Shook now hold a slim 9 point lead over Senneker with just three point races remaining on the calendar.  Brooks (-37), Thomas (-114) and Frazier (-127) all still remain in contention for the title as well.
Four-time track champion Brandon Lyons held off fast qualifier Buddy Head in a late race duel to pick up the victory in the thirty lap Super Stock feature.  Cory Pressler ran third beating out veteran Tom Wright and Jake Hopwood.  Nick Pressler finished sixth ahead of 2015 Outlaw Cyber Stock champion Keegan Dykstra, four-time track champ Kenny Head, David Guarino and 2012 Outlaw Cyber Stock champion Jerry Jansen Jr.  Lyons and Wright won the heat races.  Buddy Head now hold a 150 point lead over his brother Kenny with three events remaining.
The thirty lap Pro Stock feature saw point leader Matt Corliss charge from deep in the field to pick up the victory over Bob Miller, fast qualifier Greg Brown Keith Wilfong and young Chaz Hook.  The second half of the top ten was led by Matt Maurer over Kyle Ribble, Josh Garrett, Josh Roberts and Duane Procter.  Mark Campbell and Maurer won the heat races.  The Pro Stock championship battle now appears to be a two man fight as Corliss leads Brown by just 78 points.
In the Outlaw Cyber Stock division Dan Rigoni set quick time, started dead last (16th) and worked his way through the entire field to pick up the victory in the twenty lap feature.  2010 champion Dale Leonard finished as the runner-up ahead of Nick Layman, Cole Roelofs and Ricky LaDuke.  Larry Richardson wound up sixth beating out Mason Dykstra, Brian Gregersen, 2015 Flip Flop Cyber Stock champion Brock Sweeter and Heat Bronkema.
The Flip Flop Cyber Stock division saw fast qualifier Lane Head set quick time, start dead last and drive through the entire field to pick up the victory.  Joey Failing finished second ahead of Tony Lobretto, Nick Failing and Travis Reniger.  Valerie Bozell finished sixth beating out Paul Jakubik, Cory Sobralski, Kyra Donald and Budd Rochefort.
The Southwest Michigan Mini Stock Challenge Series made their next to last appearance of the season at the Zoo.  Point leader Jerime Damron bested fast qualifier Andrew Brest down the stretch to pick up the victory.  Kyle Shannon finished third ahead of Matt Noble and Doug Gallandt.
This Friday, August 5 action resumes with a full 6 in 1 show featuring the NASCAR Whelen All-American Series Outlaw Super Late Models.  With just three races to go the top five in points are all within 127 markers, with Mark Shook and Rick Senneker separated by only nine points!  Also in action will be the Super Stocks, Pro Stocks, Speed Pro Glow Modified Super Series, Outlaw Cyber Stocks and Flip Flop Cyber Stocks.  It will also be the final Teen Night of the year, as all kid 6-15 will be allowed entrance for just $2!  Finally it will be the first ever Big Truck Night at the Zoo!  Anyone driving a big truck to the event will be given one FREE general admission ticket and will be allowed to make some laps around the track during the intermission.
Kalamazoo Speedway is the place to be in 2016 for fast, clean, family fun! Pick up a copy of the Kalamazoo Speedway schedule at the ticket office or look it up at www.kalamazoospeedway.com. Kalamazoo Speedway plays host to some of the best entertainment events in the State and welcomes corporate groups, family outings and suite rentals. Call 269-692-2423 Monday through Friday to learn more or visit the Kalamazoo Speedway website.
For all the latest news and contests check out www.facebook.com/KalamazooSpeedway.
You can also follow Kalamazoo Speedway at www.twitter.com/kzoospeedway.