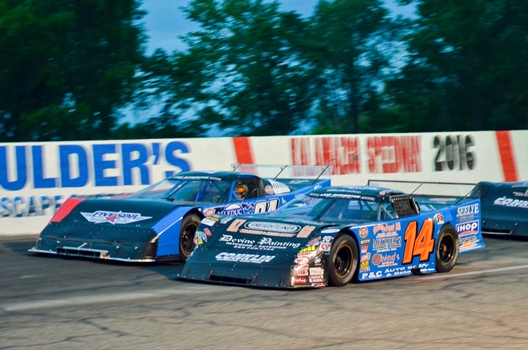 Shook Wins; Championship Battle Tightens @ the Zoo
kalamazoo
Mark Shook became the seventh different winner in the first eight races of the season for the NASCAR Whelen All-American Series Outlaw Super Late Models Friday night at Kalamazoo Speedway.  Shook started in 15th position and charged all the way to the front, finally passing three-time defending champion Mike "Bubba" Brooks for the lead and holding on to win the main event.  Brooks held on for second ahead of Matt Frazier, 12-time champion Andy Bozell and 1995 Super Stock champion Billy Shannon.  Doug True led the second half of the top ten over Tom Thomas, Bill Tomlinson, rookie Chris Garrett and 2013 Outlaw Cyber Stock champion Jack Cook.  Point leader Rick Senneker encountered trouble and finished a disappointing 13th.  Jerry Zachary and Frazier won the heat races.  Senneker's poor finish, coupled with a 1-2 finish for Shook and Brooks tightens the points up considerably with now just six races to go.  Senneker now leads Brooks by just 21 points while Shook is in third also 21 points behind (Brooks wins tiebreaker with 2 wins to 1).  Tom Thomas is now fourth in the points, just 108 points out of the lead, while Matt Frazier rounds out the top five, 133 points behind.
Point leader Buddy Head set quick time, started dead last and drove all the way to victory lane in the thirty lap Super Stock feature.  Head beat Brandon Lyons, Cory Pressler, Ron Maynard Jr. and David Guarino for the victory.  Four-time track champion Kenny Head finished sixth beating out Andrew Behlke, Bryan Noble, Nick Pressler and 2015 Outlaw Cyber Stock champion Keegan Dykstra.  Buddy Head completed his perfect night by winning his heat race also, while Lyons won the other heat.  Buddy Head now leads brother Kenny by 125 points in the championship battle.
Matt Corliss entered Friday night three points out of the lead in the Pro Stock division but made it obvious that he is not going down without a fight in 2016.  Corliss set quick time and started deep in the field in the Pro Stock feature, only to claw his way through the entire field and pick up the victory.  Young Chaz Hook put up a great fight but came up just short to finish second ahead of three-time champion Greg Haynes, Barry Jenkins and Keith Wilfong.  Veteran Brent Hook finished beating out four youngsters in Josh Roberts, Ryan Minton, Brad Hall and Josh Zordan.  Greg Brown led the points entering the night but finished a frustrating 11th.  Haynes and Hall won the heats.  Corliss now holds a 48 point lead over Brown, with Wilfong only 114 points out in third.
For the second time this season the Outlaw Cyber Stocks saw someone other than Dan Rigoni in victory lane and for the second time that man was Nick Layman.  Layman won a thrilling battle with Ryan Hufford to pick up his second victory of the season while Brian Gregersen, Larry Richardson and Rigoni rounded out the top five.  Ricky LaDuke led the second half of the top ten over 2015 Flip Flop Cyber Stock champion Brock Sweeter, 2010 champion Dale Leonard, Jeremy Young and DJ Oxford.  Rigoni did set quick time while Pete Doxey and Darren Cox won the heat races.
Point leader Lane Head picked up the win in the fifteen lap Flip Flop Cyber Stock feature.  Head beat Tony LoBretto, Valerie Bozell, Nick Failing and Daal Tyler for the win.  Kyra Donald finished sixth ahead of Joey Failing, fast qualifier Travis Reniger, Dolen Cottingham and Josh Nyberg.  Joey Failing and LoBretto won the heat races.
The Southwest Michigan Mini Stock Challenge Series was on hand again and saw Jerime Damron pick up the feature victory in the twenty-five lap event.  Fast qualifier Matt Noble was the runner-up ahead of Kyle Shannon, Andrew Brest and Marcus Carlson.  Ryan Stutz finished sixth beating out Doug Gallandt, Eric Frazier, Allen Tink and Jason Stutz.
This Friday night, July 15 is the one and only Outlaw Night of Speed featuring the Auto Value Bumper to Bumper Winged Super Sprint Series Presented by Royal Purple.  In addition to the lightning fast sprint cars the NASCAR Whelen All-American Series Outlaw Super Late Models will be on hand along with the fan favorite Pro Stock division.  As if that isn't enough the night will also see the first Kalamazoo County Showdown, a non-point event pitting the Outlaw Cyber Stocks of Kalamazoo Speedway against the Outlaw Burg Stocks of Galesburg Speedway and the Flip Flop Cyber Stocks of Kalamazoo Speedway against the Burg Stocks of Galesburg Speedway.  There will also be a FREE Rent-a Ride giveaway to one lucky fan in attendance.
Kalamazoo Speedway is the place to be in 2016 for fast, clean, family fun! Pick up a copy of the Kalamazoo Speedway schedule at the ticket office or look it up at www.kalamazoospeedway.com. Kalamazoo Speedway plays host to some of the best entertainment events in the State and welcomes corporate groups, family outings and suite rentals. Call 269-692-2423 Monday through Friday to learn more or visit the Kalamazoo Speedway website.
For all the latest news and contests check out www.facebook.com/KalamazooSpeedway.
You can also follow Kalamazoo Speedway at www.twitter.com/kzoospeedway.