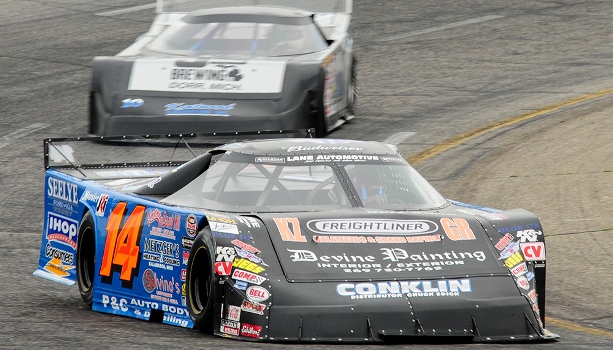 Shook Takes Home Kalamazoo Crown
kalamazoo
DAYTONA BEACH, Fla. – In 2015, Mark Shook entered the season finale at Michigan's Kalamazoo Speedway as the points leader and it appeared he would be celebrating his first track championship.
Unfortunately, a crash not of his doing on lap three of the 100-lap season finale cost Shook what should have been his first championship. Instead, it was Mike Brooks who captured the track championship in the Division I outlaw super late model class as Shook ended the year a disappointing third.
This year Shook was determined not to let the same thing happen again.
"Last year should have been my first championship," Shook said. "It kind of gave me that extra drive for this season. So we hit it hard."
Shook, a 25-year-old resident of Schoolcraft, Michigan, rebounded in grand style by winning two races and capturing the NASCAR Whelen All-American Series Division I track title at Kalamazoo by more than 100 points ahead of veteran Rick Senneker.
The championship didn't come without hiccups, however. Shook started the season with a 15th-place finish in the season-opening Intimidator 100 despite running near the front of the field most of the event.
"I think we got pretty much to Lap 95 and the car shut off when I was running fifth," Shook said. "Needless to say the first four weeks we had some ignition gremlins. I think we finished maybe one race."
Once the issues were finally worked out, Shook went to work. He scored his first victory of the year at Kalamazoo on July 8 and followed it up a few weeks later with his second victory on July 29.
"Pretty much from the midpoint on we hit our stride and never really looked back and it all worked out for us," Shook said. "Once we fixed those ignition issues we were able to finish most all of the races."
Along with the two victories at Kalamazoo, Shook also collected nine top-five and 14 top-10 finishes in 19 races between Kalamazoo and another Michigan track, Berlin Raceway. He also won the season-ending Super Shoe Nationals non-point event at Kalamazoo to cap off the year.
Shook said capturing the track championship at Kalamazoo capped off a dream he has had since he was a child, when he watched his stepfather, Dave Lober, race at Kalamazoo Speedway.
"My stepdad raced there for pretty much my whole life," Shook explained. "So I grew up at that race track. So to go there and finally be the champ…it's pretty cool."
Despite capturing his first track championship, Shook said he ended the year a bit disappointed. His goal was to not only win the track championship at Kalamazoo, but also to win the Michigan state championship as well.
He fellow short of that goal this year, finishing third in the Michigan state rankings behind Tom Vandersloot and his Kalamazoo rival Brooks.
U.S. state and province champions are determined by the best 18 finishes at tracks within the respective state or province.
"We wanted the track championship and state titles, but we fell short a little bit," Shook said. "We missed a couple of races and Tom Vandersloot had a good season, so its hard to chase that.
"Next year that is definitely going to be my goal. I want to win the track championship and the state points. That's it for me."
He said in order for him to do that, he's going to have to travel more to Berlin Raceway, a track he isn't very familiar with and stay competitive all season long.
"You have to go run Berlin and Kalamazoo to get the points and we've never really…I mean I'm not too familiar with Berlin," Shook said. "I've been there a few times, but you've got to have top-five and top-10 finishes there to kind of push you up the points system.
"We're going to figure it out and definitely try and win it for sure."
Adam Fenwick, Special to NASCARHomeTracks.com
December 13, 2016 – 10:56am