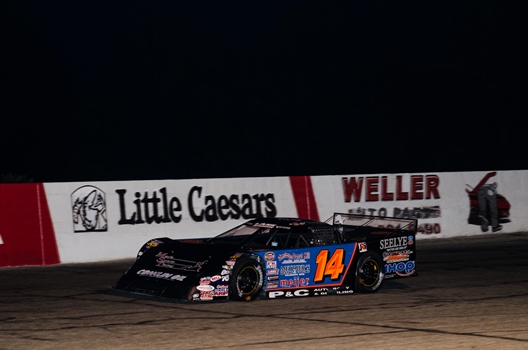 Shook Puts Exclamation Point on Championship Season with Victory
kalamazoo
Season Championship night kicked off with 95 cars filling the pits. The Flip Flop Cyber Stocks started the night off with a strong field of 24 cars. Going into the feature Nick Failing was leading the standings by just 6 points over Tony LoBretto. Lap four saw a tough break for the points leader as he got a flat tire and headed toward the pits. Halfway through the race, the field was turned around to go the opposite direction. This season has seen the Flip Flop division go left and right, but never both directions on one night! Tony LoBretto dominated the race leading all but a few laps. He went on to win the feature and the 2017 track championship. He was followed Denver Sweat, Grant Lofquist, Josh Nyberg and Brandon Sweat.
The Outlaw Cyber Stocks took to the track next with Larry Richardson leading the points over Jeremy Young. A field of 16 cars started the 25 lap feature. Dan Rigoni made his way from the 12th starting spot to hold an early lead. Rigoni put up a good fight with Corey Woods before Woods took over the lead, taking Paul Bittle with him. Their feature went green to checkered flag, with Woods taking his car to victory lane. He was followed by Bittle, Rigoni and Brock Sweeter. Fifth place went to Richardson, as he clinched the title of 2017 Outlaw Cyber Stock Champion! Kalamazoo Speedway is proud to announce him as our first African American champion!
As the Pro Stocks rolled out onto the track for their 35 lap feature, Zack Cook held a small lead over Greg Brown. Cook started 13th and Brown had the 11th starting spot. Shane Miller dominated most of the race, taking home first place. Second place went to Cook as he wrapped up his championship! Third through fifth finished as follows: Brown, Kyle Ribble and Alan Marcott.
Next in the feature line up were the Super Stocks, starting with 14 cars. Buddy Head clinched the championship during qualifying. The points battle in this division was for third through sixth place, being separated by less than 30 points. The first caution came out on lap 6 as Josh Trammel rode the wall and caught fire, well Matt Maurer held the lead. After another caution, Keegan Dykstra briefly took over the lead after charging from 12th place starting spot. Buddy Head soon passed him and went on to win the feature. Dykstra and AJ Foote battled for the last 10 laps with Keegan finishing second and AJ third. Corey Pressler and Maurer finished fourth and fifth.
The last feature of the night was the NASCAR Whelen All-American Series Outlaw Super Late Models, starting with 19 cars. Mark Shook started the feature knowing he had already taken the title as season champion. Tom Thomas and Todd Harrington started the feature just one point apart for second place in points. Shook held a dominant lead as Adam Terry made his way from sixth to second. The first caution came out on lap 44 for fluid, giving the lucky dog pass to Rick Senneker. On lap 76, Chris Nash spun in turn three bringing out the caution, with Dan Roodvotes receiving the benefit from the lucky dog. The restart saw Shook and Terry starting side by side. Shook was able to pull out to the lead and take his hot rod to winners circle. He was followed by Terry, Thomas, Craig Everage and Harrington. Thomas had an impressive run giving him second place in Outlaw Super Late Model points.
There is still plenty of racing action in the 2017 season. Join us this Saturday, September 2nd as we switch back to SATURDAY'S for post season events with the annual "Call of the Wild". This "Run What Ya Brung" show has grown to be a fan favorite. We anticipate over 100 cars for this event. Does anyone have what it takes to break Andy Bozell's 9.465second world record lap?! Come find out as we try to go faster!
Kalamazoo Speedway is the place to be in 2017 for fast, clean, family fun! Kalamazoo Speedway plays host to some of the best entertainment events in the state and welcomes corporate groups, family outings and suite rentals. Call 269-692-2423 Monday through Friday to learn more or visit the Kalamazoo Speedway website.
For all the latest news and contests check out www.facebook.com/KalamazooSpeedway.
You can also follow Kalamazoo Speedway at www.twitter.com/kzoospeedway.