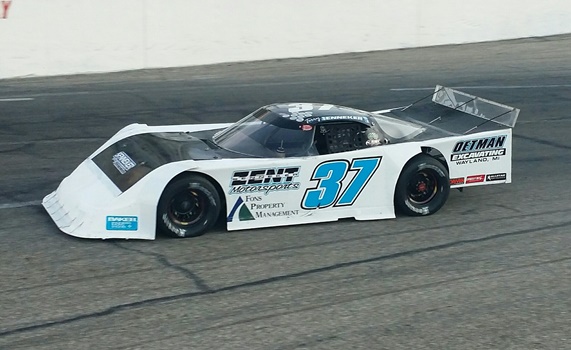 Senneker Tops Klash Practice Night; 42 Cars on Entry List for Wednesday
kalamazoo
Terry Senneker was the quickest of the 33 Outlaw Super Late Models that participated in testing for Wednesday's 24th annual Kalamazoo Klash.  Senneker ran a lap of 12.068 seconds at 111.866mph.  Monte Tolan was second quick ahead of Brian Bergakker, Tyler Roahrig and Jeff Ganus.  Lee VanDyk led the second half of the top ten followed by Chad Finley, former track champion Phil Bozell, former Klash winner Steve Needles and Brandon Lyons.
In the ARCA/CRA Super Series test session Dalton Armstrong was the fastest with a lap of 12.874 seconds at 104.863mph.  Johnny VanDoorn was second quickest ahead of Brian Campbell, Mike Bursley (driving the car Erik Jones will be driving Wednesday) and Tim Devos.  Current point leader Cody Coughlin was sixth fastest beating out Chris Koslek, Grant Quinlan, Jordan Dahlke and Jason Timmerman.
Wednesday, August 10 the biggest event of the season takes place with the running of the 24th annual Kalamazoo Klash.  42 Outlaw Super Late Models are currently registered to take part in the event known as the #1 Outlaw Super Late Model race in the country.  Among those names is two-time NASCAR Camping World Truck Series Champion Matt Crafton, who finished 4th in this event one year ago.  In addition to the Outlaw Super Late Models, the ARCA/CRA Super Series will also be on hand.  That entry list is headed up by 2015 NASCAR Camping World Truck Series champion and current NASCAR Xfinity Series Chase Grid leader Erik Jones.  Jones also just announced a deal to move to the Sprint Cup Series full time in 2017 as a teammate to Martin Truex Jr. at Furniture Row Racing.
[gview file="http://www.kalamazoospeedway.com/wp-content/uploads/2016/08/Kalamazoo-Klash-XXIV-Entry-List-1.pdf"]
Kalamazoo Speedway is the place to be in 2016 for fast, clean, family fun! Pick up a copy of the Kalamazoo Speedway schedule at the ticket office or look it up at www.kalamazoospeedway.com. Kalamazoo Speedway plays host to some of the best entertainment events in the State and welcomes corporate groups, family outings and suite rentals. Call 269-692-2423 Monday through Friday to learn more or visit the Kalamazoo Speedway website.
For all the latest news and contests check out www.facebook.com/KalamazooSpeedway.
You can also follow Kalamazoo Speedway at www.twitter.com/kzoospeedway.