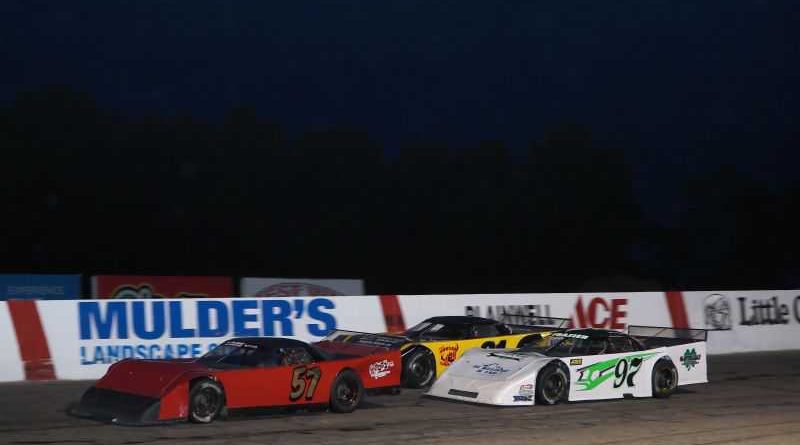 Senneker Scores Outlaw Win @ Kalamazoo
kalamazoo
Veteran driver Rick Senneker held off a late charge from Doug True to pick up the victory in the Outlaw Super Late Model feature Friday night at Kalamazoo Speedway. True held on to finish second ahead of fast qualifier Adam Terry, 1995 Late Model Sportsman champion Billy Shannon and Matt Frazier. Kevin Sauer led the second half of the top ten over two-time champion Mark Shook, Rich Boal, Craig Everage and defending champion Todd Harrington. Notable finishers included point leader Andrew Brest, who finished a disappointing 12th. True now leads in incredibly tight point battle over Terry (-11), Brest (-11), Harrington (-32), Senneker (-37), Frazier (-69), Everage (-73) and Shannon (-147).
Point leader Buddy Head collected a hard-fought battle in the Late Model Sportsman feature, holding off 12-time Outlaw Super Late Model champion Andy Bozell for the victory. Fast qualifier Kenny Head ran a solid third ahead of 2015 Outlaw FWD champion Keegan Dykstra and Chris Garrett. Austin Maynard finished sixth beating out Ryan Stutz, Jesse VanAvery, Keith Wilfong and Makena Snyder. Notable finishers included Chris Shannon, who came home in 16th. Buddy Head's point lead now sits at 170 over Chris Shannon, as he eyes his eighth track title.
Brandon Zachary collected his first point win of the 2019 season by taking the checkered flag in the Street Stock feature. Colin Bozell finished second ahead of 2017 champion Zack Cook, fast qualifier and point leader Kyle Ribble and defending champion Greg Brown. Doug Gallandt finished a solid sixth while Heath Bronkema, Barry Jenkins, Ricky LaDuke and Jerry Ballard rounded out the top ten. Zachary and Brown won the heat races. Ribble's point lead is now just 23 over Zachary with Cook just 35 points behind in third.
In the Outlaw FWD feature Corey Woods was able to collect the victory, finishing just 0.272 seconds ahead of runner-up Pete Doxey. Kyle Jansen came home third while Drew Losey and Nick Failing rounded out the top five. Wayne Stack led the second half of the top ten over Camille Lewis, John Carr, John Munro and Gordon Hopson. Notable finishers included Adam VanAvery in 13th and fast qualifier Gabe Carr, who finished 14th. Heat wins went to Adam VanAvery and Munro. Woods now sits 54 points ahead of VanAvery while Doxey (-70) and Gabe Carr (-110) are also within striking distance.
Grant Lofquist picked up the victory in the twenty lap Zoo Stock feature. Matthew Elsey finished second bating out Logan Hiemstra, fast qualifier Matt Majewski and Matt Elsey. Point leader Rielly Meade finished sixth while Jared Blanchard, Regan Powell, Drew Hosner and Bill Evink rounded out the top ten. Notable finishers included Jorden Brinkert, who finished 12th. Ross Bergamn collected the 'B' Feature win while heats went to Matt Elsey, Hosner, Joshua Nyberg and Brian Patton. The battle for the championship now sees Rielly Meade 53 points up on Brinkert with Matthew Elsey (-112), Hiemstra (-113), Blanchard (-116) and Bergman (-142) all still in the hunt.
This Friday night, July 19 the Outlaw Super Late Models run their last extended length feature before next month's 27th annual Kalamazoo Klash, with the running of the Allstar Performance 75. In an incredibly tight point battle, Doug True now holds the lead but the top eight drivers sit within just 147 points. Also in action will be the Late Model Sportsman and Zoo Stock classes.