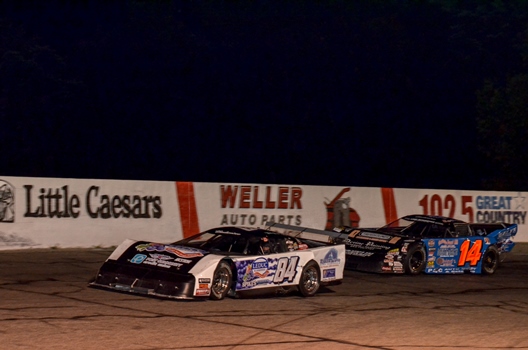 Season Championship Will Pay $1,500 to Win & $350 to Start for NASCAR Whelen All-American Series Outlaw Super Late Models
kalamazoo
Kalamazoo Speedway officials have announced that this Friday's Season Championship race will pay $1,500 to win and $350 to start for the NASCAR Whelen All-American Series Outlaw Super Late Model division.  In addition to a thrilling 100 lap race fans will witness one driver being crowned as the champion for 2016.  Five drivers enter the evening with a mathematical chance at the title, with three of them having very realistic chances at the title.  Mark Shook will bring a 39 point advantage into the season finale looking to pick up his first title while Mike "Bubba" Brooks will look to overcome the 39 point deficit and pick up his fourth consecutive title.  If those two should encounter problems Rick Senneker sits just 60 points behind and is eager to win his first title as well.  Tom Thomas (-133) and Matt Frazier (-148) have mathematical chances but would need a lot of help.  The complete payout for Friday's 100 lap finale is below.
Season Championship Payout: $1500-1000-700-600-500-400-350 to start
Kalamazoo Speedway is the place to be in 2016 for fast, clean, family fun! Pick up a copy of the Kalamazoo Speedway schedule at the ticket office or look it up at www.kalamazoospeedway.com. Kalamazoo Speedway plays host to some of the best entertainment events in the State and welcomes corporate groups, family outings and suite rentals. Call 269-692-2423 Monday through Friday to learn more or visit the Kalamazoo Speedway website.
For all the latest news and contests check out www.facebook.com/KalamazooSpeedway.
You can also follow Kalamazoo Speedway at www.twitter.com/kzoospeedway.