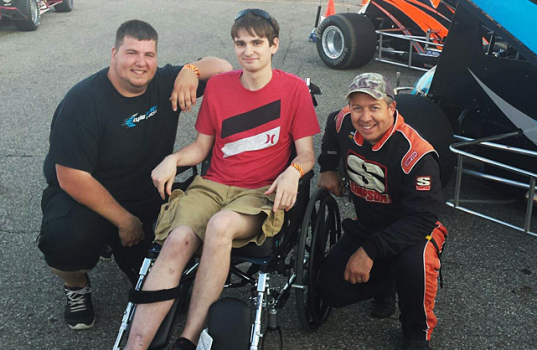 Roahrig Returns to K-Zoo Klash for First Time Since Injury
kalamazoo
Tyler Roahrig's life took a 180-degree turn on April 25, 2014 when he was involved in a serious practice crash while piloting a Super Late Model at Anderson Speedway in Indiana.  The driver from Mishawaka, Indiana suffered severe injuries from the accident including a broken hip, arm, tailbone, sternum and left shoulder blade.
One year and one day after the horrific crash, Roahrig returned behind the wheel of a race car on April 26.  He finished sixth in that race at Anderson and told Speed51.com powered by JEGS after the race that it was "better than laying in a rehabilitation institute like a year ago at this time."
Now, 15 months after having his racing career and life come to a screeching halt, Roahrig will make his return to two of the Midwest's most prestigious events for the first time since 2013.  He will compete in the Summer Sizzler at New Paris Speedway (IN) on Thursday before making his way to Kalamazoo Speedway in Michigan for the Kalamazoo Klash on Wednesday, August 12.
Roahrig has two career wins in the Summer Sizzler, but has yet to win the prestigious Kalamazoo Klash. The 24-year-old finished runner-up during the 2012 and 2013 versions of the Klash and led a combined 57 laps, but both times Roahrig was passed by four-time winner Terry Senneker, Jr. in the closing laps.
"I guess I've just got to do better than him (Senneker)," Roahrig said with a laugh.  "It would be a pretty big deal to me. Kalamazoo is a track that I've always been fast at but I've always had trouble sealing the deal. Two weeks ago I was leading a Sprint Car race there and then the motor broke with four laps to go.
"I've felt like that track has owed me for a long time, actually. I've led a ton of laps there and I've only won like one outlaw race there. But that said, I've got to get through the Sizzler first, which is Thursday at New Paris. But I know my preparation is as good if not better than anyone else's for these two races so I'm excited to get there."
In years past, Roahrig has felt as though he's been one of the few cars able to keep up with Senneker but admitted that he was still just a little bit off of Senneker's pace.  He's hoping that can change this year and he can be the one to put an end to Senneker's bid for four straight Klash victories.
"It would be sweet," said Roahrig.  "He and I always joke about having Klash rematches at other tracks because he always passes me. But it would be huge. He's won four times and three in a row. No one has even really been close to him. The two years he passed me I felt like I was close, but he was still better than me."
Roahrig is expecting the dynamic of this year's Klash to be much different that it has been in previous years with the addition of a competition caution with 25 laps to go.  He believes that it will help mix things up a little bit and also put on a better show for the fans.
"I think guys will race with having that caution in mind," Roahrig stated.  "Sometimes we get spread out at the end of that race.  I'm glad they're doing that caution for that reason.  So say you get into second and Terry's got a half lap lead, you've still got that caution to fall back on."
If he's able to beat Senneker and score his first career Kalamazoo Klash victory, Roahrig believes the win would rank right up there with his two Summer Sizzler wins.
"Personally, the Sizzler has always been my favorite race. It just has a certain sentimental value to me and I've won it twice. But the Klash would be big. That's a big deal for Outlaw Late Models. It would be just as big as my Sizzler wins."
Since returning from his injury just over three months ago, Roahrig believes that things are back to normal for the most part.  The only difference is his new perspective on racing and, more importantly, life.
"I don't know how to explain that perspective, I just know it's different."
-By Brandon Paul, Speed51.com Editor – Twitter: @Brandon_Paul51
-Photo credit: Speed51.com