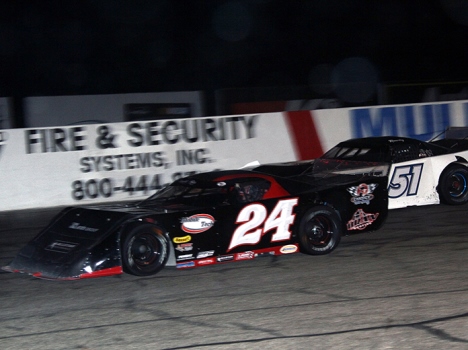 Roahrig & Braden Conquer Kalamazoo Klash
kalamazoo
Tyler Roahrig and Travis Braden shared victory honors during the 25th annual Kalamazoo Klash presented by the West Michigan Toyota Dealers at Kalamazoo Speedway Wednesday night.
Roahrig, the 26-year-old speedster from Plymouth, Ind., won the 125 lapper for outlaw super late model stock cars, giving him his first career Klash victory. Roahrig, who has made a comeback from devastating injuries suffered in a crash in April of 2014, and his Schneider Auto Sales No. 24 entry defeated NASCAR star Kyle Busch by .963 of a second at the checkered flag. Jeff Ganus, who led the majority of the race, finished third with Andy Bozell, Brian Bergakker and Phil Bozell rounding out the top six.
With a field of 23 cars taking the green flag, former Klash winner Steve Needles, coming from his outside front row starting spot, led the early laps of the race, which was slowed by seven yellow flag caution periods and a red flag incident. Ganus took over the top spot after a double-file restart with 116 laps to go. Ganus stayed out front with Brian Ross giving chase during the early stages of the contest.
Ganus continued to show the way with the likes of Busch and Roahrig working their way towards the lead. After another double-file restart with 41 laps to go, Roahrig worked his way quickly by Busch for second place and set his sights on the leader. With about 33 laps to go, Roahrig went by Ganus for the lead.
On a charge, Busch, who was the fastest qualifier among a field of 32, raced into second place and began to reel in Roahrig as he really closed in with about 16 circuits remaining. From there it seemed Roahrig took control and raced to the $5,000 victory.
"This is the biggest win of my career by far," said Roahrig. "I've won some big races before, but this tops it and to beat Kyle Busch of all people. He's no slouch on the race track.
"I was going hard from lap one. You need to get the lead in these races. It seemed I was always in the wrong lane on the restarts. I had to really work for this one. It seemed I had to pass each car individually. Those last 40 laps or so with Kyle Busch behind me, I ran this thing as hard as I could. I passed Busch for second on the restart. It was kind of a risky move, but it was kind of do or die at that time. He didn't really get going on the restart. We touched a little bit. I hope he's not upset. I know it was an aggressive move, but sometimes you have to take whatever you can get."
Posting his third ARCA/CRA powered by JEGS Super Series victory in a row, the 23-year-old Braden of Wheeling, W.Va., drove his Platinum Express/Brand's Truck Insurance-sponsored Chevrolet No. 26 to the $5,000 win, besting Johnny VanDoorn by 1.032 seconds at the finish.
Rookie Kyle Crump took third place, followed by Jordan Dahlke, Carson Hocevar and Brian Campbell. Earlier, Braden, a former two-time CRA champion, grabbed fast time honors during qualifications, topping the field of 23.
The ARCA/CRA contest saw front row starters Crump and VanDoorn battle for the lead during the opening laps with VanDoorn securing first place on lap three. VanDoorn stayed out front till lap 55 when Braden took the lead. VanDoorn came right back and was again the leader at about lap 85. In a race slowed by three caution periods, VanDoorn seemed on his way to victory until the third yellow flag flew with four laps remaining.
VanDoorn took the inside lane for the restart with Braden on the outside. VanDoorn seemed not to get going when the green flag flew with Braden using the outside groove to take over first place.
"He (VanDoorn) obviously thought the bottom (groove) was the way to go," said Braden. "I wanted the top (groove) because I was tight in the center. I didn't want to get stuck on the bottom. I thought his car would be better on the bottom. It was the luck of the draw and Johnny had to gamble. It was a gamble for anyone who would have been leading there at the end. I got kind of lucky."
A dejected VanDoorn commented, "You just couldn't get going on the inside. You'd just spin your tires. I have no one to blame but myself. The crew gave me a great car, but it was a bad choice on my end."
The finish (Kalamazoo Klash):
Tyler Roahrig, Kyle Busch, Jeff Ganus, Andy Bozell, Brian Bergakker, Phil Bozell, Dennis Strickland, Monte Tolan, Brandon Lyons, Adam Terry, Tom Thomas, Mark Shook, Brian Ross, Tim DeVos, Mike Root, Steve Dorer, Brian Maxim, Steve Needles, Doug True, Todd Harrington, Mike Brooks, Rick Senneker, Harold Fair Jr.
The finish (ARCA/CRA Super Series)
Travis Braden, Johnny VanDoorn, Kyle Crump, Jordan Dahlke, Carson Hocevar, Brian Campbell, Logan Runyon, Phil Bozell, Raphael Lessard, Steve Dorer, Dalton Armstrong, Buddy Head, Kyle Busch, Chase Purdy, Dan Leeck, Boris Jurkovic, Scott Hantz, Evan Shotko, Wes Griffith Jr., Eddie Fatscher, Trevor McCoy, Tylor Hufford, Thomas Woodin.