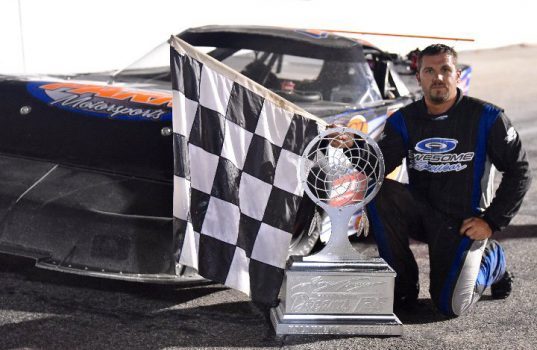 Outlaw Late Model Titans Duel for Kalamazoo Victory
kalamazoo
Weather delays plagued Kalamazoo Speedway (MI) Wednesday night, but Mother Nature couldn't dampen the dream for one undaunted driver.
Jeff Ganus out-battled "The Rocket" Tyler Roahrig to the checkers in a photo-finish duel for the Second Annual Gary Terry "Follow Your Dreams 125."
"I could feel him back there, hear him back there, I could even see him a couple times," Ganus described. "Tyler's really good, he's been on top of the pedestal. He's hard to beat and tonight was a tough one."
Roahrig stayed glued to the back of Ganus for the majority of the race. As the last lap approached, the No. 24 machine made its last run for the lead. Roahrig pulled to the inside and drove it hard out of four, but it was Ganus with the win.
"We were pretty close coming across the line," Roahrig told Speed51.com powered by JEGS. "He did a pretty good job keeping me behind him, but wasn't blocking by any means. It was a good, hard but clean race and that's all I can ask for."
Lapped traffic and speedway conditions played a substantial role in driver strategy. Roahrig felt the track had changed substantially after the torrential downpour that halted the feature only 12 laps in, but in retrospect doesn't believe he had a chance regardless.
"Honestly, I don't think I could have passed him even if we had 100 more laps," Roahrig said. "He just ran a perfect line. Overall, I can't complain with second. It was fun racing with Jeff, he's one of my best friends."
Ganus would restart in second after the rain, but was unwilling to trust the forecast. Fate would be left out of the equation as the green flag dropped again and the No. 5 machine left the field behind.
"I really had it in my head that it was going to start raining again, so I needed to take off and get out front," Ganus explained. "I probably used up a little more tire in the beginning than I should have."
Ganus' tactics paid off. The Constantine, Michigan native tried to convey his emotions as he stood next to the dreamcatcher trophy, but one word ended up sufficing.
"To take home this trophy right there, it means the world," Ganus said. "[The Terry's] are one of the best families in racing I've ever met in my entire life. To own this trophy now, it's an honor. It's indescribable."
For an on-demand replay of Wednesday night's Trackside Now coverage from Kalamazoo Speedway, click here.
Gary Terry "Follow Your Dreams" 125
Kalamazoo Speedway, Kalamazoo, Michigan
Unofficial Results
| | | |
| --- | --- | --- |
| Pos. | No. | Driver |
| 1 | 5 | Jeff Ganus |
| 2 | 24 | Tyler Roahrig |
| 3 | 14 | Mark Shook |
| 4 | 83 | Andy Bozell |
| 5 | 3 | David Stremme |
| 6 | 8P | Phil Bozell |
| 7 | 25 | JR Roahrig |
| 8 | 93 | Doug True |
| 9 | 7 | Justin Claucherty |
| 10 | 89 | Jeff Stetler |
| 11 | 24s | Kevin Sauer |
| 12 | 0 | Dennis Strickland |
| 13 | 16 | Brian Ross |
| 14 | 12 | Dustin Lundgren |
| 15 | 71 | Harold Fair Jr. |
| 16 | 18 | Steve Needles |
| 17 | 8 | Andrew Brest |
| 18 | 4 | Adam Terry |
| 19 | 9R | Mike Root |
| 20 | 56 | Brian Bergakker |
| 21 | 48 | Vernon Sauer |
| 22 | 15 | Brian Maxim |
| 23 | 9 | TK Whitman |
| 24 | 19 | Brandon Zachary |
| 25 | 98 | Tom Thomas |
-By Melissa Strahley, Speed51.com Southeast Correspondent
-Photo Credit: Speed51.com