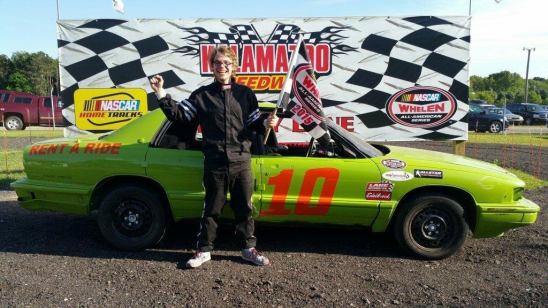 One Lucky Kalamazoo Speedway Fan Will Win a FREE Rent-a-Ride This Friday!
kalamazoo
This Friday night the 2016 Kalamazoo Speedway season kicks off with a full six division show featuring the Intimidator 100 for NASCAR Whelen All-American Series Outlaw Super Late Models.  In addition to the thrilling racing action expected on the track one lucky fan will win a FREE Rent-a-Ride, to be used at any point during the 2016 racing season!  All grandstand passes will be thrown into a bucket and one lucky person will have their ticket drawn to win this prize, valued at $225!!  Fans, make sure to keep your ticket stubs from the season opener as we will be giving away a Flat Screen TV next Friday, May 6th.  Your ticket numbers from this week will transfer to the TV giveaway on May 6th, so make sure you have your ticket stub from the season opener with you!!
Rent-a-rides are filling up quick for the 2016 season, so get yours soon!  You can get more information on the Rent-a-Rides by clicking HERE.  For even more info contact the speedway office at 269-692-2423 or by emailing gary@kalamazoospeedway.com.
Kalamazoo Speedway will be the place to be in 2016 for clean, family fun! The full 2016 Kalamazoo Speedway Schedule can be viewed at www.kalamazoospeedway.com. Kalamazoo Speedway plays host to some of the best entertainment events in the State and welcomes corporate groups, family outings and suite rentals. Call 269-692-2423 Monday through Friday to learn more or visit the Kalamazoo Speedway website.
For all the latest news and contests check out www.facebook.com/KalamazooSpeedway.
You can also follow Kalamazoo Speedway at www.twitter.com/kzoospeedway.