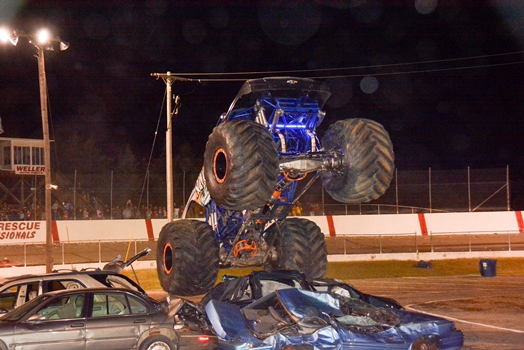 Night of Destruction Pre-Sale Ticket Options
kalamazoo
Tickets for this Saturday's Night of Destruction will be on sale at the following times and locations.
Thursday, September 15: 8:00-5:00 @ Howe Patio
Friday, September 16: 8:00-3:00 @ Howe Patio
Friday, September 16: Noon-5:00 @ Kalamazoo Speedway Ticket Office
On Saturday the ticket office will open at 2:00 to begin selling tickets.  This event is going to have it all: Monster Trucks, Bus Races, Mini Enduro, Gauntlet Race, Stunt Show, Fireworks and much, much more!  This is one event you will not want to miss!!  Get There Early……the Place is Gonna be Packed!  Gates will open at 4:30 and the destruction starts at 7:30.
Kalamazoo Speedway is the place to be in 2016 for fast, clean, family fun! Pick up a copy of the Kalamazoo Speedway schedule at the ticket office or look it up at www.kalamazoospeedway.com. Kalamazoo Speedway plays host to some of the best entertainment events in the State and welcomes corporate groups, family outings and suite rentals. Call 269-692-2423 Monday through Friday to learn more or visit the Kalamazoo Speedway website.
For all the latest news and contests check out www.facebook.com/KalamazooSpeedway.
You can also follow Kalamazoo Speedway at www.twitter.com/kzoospeedway.