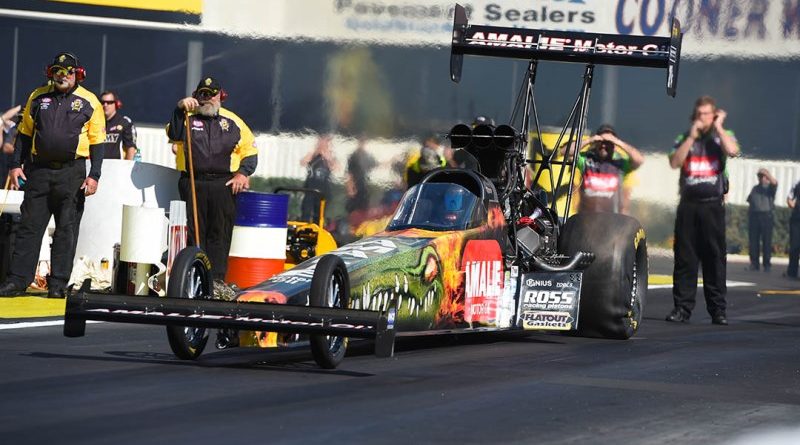 NHRA Top Fuel Dragster Winner to Race & Serve as Grand Marshall Friday, May 25
kalamazoo
Kalamazoo Speedway, the fastest 3/8 mile oval in the world, welcomes NHRA Top Fuel Dragster driver Terry McMillen, one of the fastest race car drivers in the world, on Friday, May 25. McMillen will get behind the wheel of a Zoo Stock and serve as the Grand Marshall for the night. McMillen and his Amalie Motor Oil team won their first Top Fuel event last season at The Strip at Las Vegas Motor Speedway also making his first career "Countdown to the Championship". McMillen currently sits 8th in the Top Fuel point standings and is on pace to make NHRA's Countdown to the Championship for the second consecutive season. McMillen has a career best speed of 328.48 mph.
Kalamazoo Speedway owner Gary Howe said, "I think it's awesome that one of the NHRA stars has agreed to hang out at an oval track for a night. Oval track fans and drag race fans both have something to get excited about for May 25th. Terry will have the opportunity to gain some circle track fans and we might be able to show some local drag racing fans that our product is pretty exciting also. It's a win-win for all parties involved."
McMillen said of his return trip to the Zoo, "We always look forward to the Lane Automotive night at The Zoo every year. The first time I ever raced on an asphalt circle track was here and the fans and racers welcomed us with open arms. Heck, last year we got our first NHRA win in Vegas, how cool would it be to get my first circle track win at The Zoo? "
McMillen's appearance will make the May 25 night of racing even more dynamic. Four Kalamazoo Speedway weekly classes will be in action that night culminating with the Lane 75 for the Outlaw Super Late Models. Kids will be able to get in on the action with scooter races on the track at 7:00 pm, with Terry McMillen serving as the honorary flagman and stepping into the group photo with all the kids participating.
Kalamazoo Speedway is the place to be in 2018 for fast, clean, family fun! Kalamazoo Speedway plays host to some of the best entertainment events in the state and welcomes corporate and family groups to our private decks and suites. Call 269-692-2423 Monday through Friday to learn more or visit www.kalamazoospeedway.com.
For all the latest news and contests check out www.facebook.com/KalamazooSpeedway.
Follow Kalamazoo Speedway at www.twitter.com/kzoospeedway.
For more information on Terry McMillen, visit www.terrymcmillen.com. For more information on Amalie Motor Oil, visit www.amalie.com. For more information on Lane Automotive, visit www.laneautomotive.com.