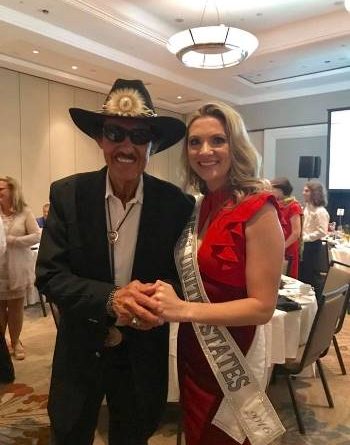 Mrs. USA, Ashley Stremme to be the Grand Marshall for the Gary Terry "Follow Your Dreams" 125
kalamazoo
KALAMAZOO, MI — Ashley Stremme, the current Mrs. United States, will be the Grand Marshall for the 2nd annual Gary Terry "Follow your Dreams" 125 Outlaw Super Late Model event, which will take place Wednesday, June 14th at the Kalamazoo Speedway. Ashley resides in Mooresville, North Carolina with her husband, David Stremme who is a veteran Monster Energy NASCAR Cup Series driver and is participating in this year's Outlaw Late Model spectacular.
Ashley roots are deeply embedded in motorsports. After earning her B.A. in Information Technology Leadership from Washington & Jefferson University, Ashley now works as a television and radio show host in the motorsports industry. She, with her husband David, are also the owners of a nationally ranked racecar chassis manufacturing company, Lethal Chassis.
For Ashley, advocating for the rights of disabled children has been a life-long passion. Ashley's sister was born with medical complications and subsequently bound to a wheelchair. After her sister passed away, Ashley bravely navigated through her own life's journey and became passionate about helping children live their lives without limitations or boundaries. Coupled with her family's passion for auto racing, Ashley was introduced to Victory Junction in 2008, an auto racing-themed camp for children with chronic or life-threatening illnesses. Ashley's volunteer work at Victory Junction has helped children just like her sister learn more about what they are capable of, even in the face of their illness.
Ashley enjoys living life to the fullest. With a passion for motorsports, she travels the country with her husband and their three dogs: Maddie, Cali & SoCal.
The 2nd annual Gary Terry "Follow Your Dreams" 125 presented by GT Products takes place at Kalamazoo Speedway on Wednesday, June 14. Registration is currently open to all competitors; the event will offer a $5,003 winner's share and $1,003 to start the 125-lap event. For more information, visit: www.kalamazoospeedway.com