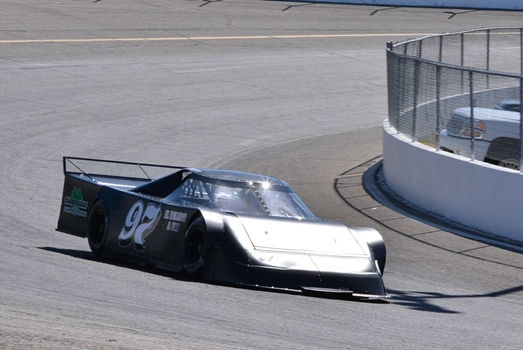 Matt Frazier Tops Final Pre-Season Test @ the Zoo
kalamazoo
Matt Frazier ran a lap of 13.002 seconds at 103.830mph to top the speed chart for the NASCAR Whelen All-American Series Outlaw Super Late Models on Saturday afternoon at Kalamazoo Speedway. AJ Foote was second fastest ahead of Todd Harrington, Billy Shannon and Scott Rugg. The second half of the top ten was led by Dave Lober ahead of Jeff Bozell, Tom Rutherford, Dan Roodvoets and Jerry Pierman.
In the Super Stock division defending champion Buddy Head was the quickest with a lap of 13.601 seconds. Chris Shannon was second quick ahead of Brandon Lyons, Eric McGlothlen and Tom Wright. Jim Leonard was sixth quickest beating out Rodney Smith, Dave Leonard, Tony Staffen and Justin Dinzik.
Veteran driver Matt Corliss was the fastest of sixteen Pro Stocks on the property with a lap of 14.537 seconds. Defending champion John Foote was second ahead of Keith Wilfong, Greg Brown and Kevin England. Kyle Ribble was sixth ahead of Brad VanAvery, Jim McGinnis, Chaz Hook and Danny Oxford.
The Mini Stock division saw Steve Potter top the time sheet. The 1999 Super Stock champion ran a lap of 14.653 seconds at 92.131mph. Andrew Brest was second quickest ahead of Logan Knight, Brian Echtinaw and Kyle Shannon.
The Outlaw Cyber Stocks had their final tune-up before opening night with Jeff Sayles ending the day as the quickest driver. Sayles ran a lap of 15.546 seconds at 86.839mph. Josh Roberts, Larry Richardson, Jeremy Young and Daelynn Post rounded out the top five.
Finally, one week before the debut of their new division the Flip Flop Cyber Stock drivers hit the track for one final tune-up. Will Slaughter was the quickest with a lap of 17.153 seconds at 78.703mph. Keith Ribble, Travis Krum, Brock Sweeter and Michael Jenks rounded out the top five.
This Saturday, April 25 is the day Kalamazoo Speedway fans have been waiting for since October! It's the season opener for the 2015 season and it will be capped off with the Intimidator 100 Presented by Allstar Performance for the NASCAR Whelen All-American Series Outlaw Super Late Models. Two-time defending champion Mike "Bubba" Brooks will look to get his season off to a strong start but will have to fight off several challengers including AJ Foote, Rick Senneker, Matt Frazier and Billy Shannon. In addition to the regulars, many outsiders are expected to challenge for the $2,000 top prize including 12-time champion Andy Bozell and Jeff Ganus. In addition to the Outlaw Super Late Models also in action will be the Super Stocks, Pro Stocks, Mini Stocks, Outlaw Cyber Stocks and Flip Flop Cyber Stocks.
Kalamazoo Speedway plays host to some of the best entertainment events in the state of Michigan, and welcomes corporate groups, family outings, suite rentals, and clean family fun. Call 269-692-2423 Monday through Friday to learn more!
For more information on Kalamazoo Speedway visit www.kalamazoospeedway.com.
Be sure to become a fan of Kalamazoo Speedway for all of the latest news and contests at: www.facebook.com/KalamazooSpeedway.
You can also follow Kalamazoo Speedway on our official Twitter page: www.twitter.com/kzoospeedway.