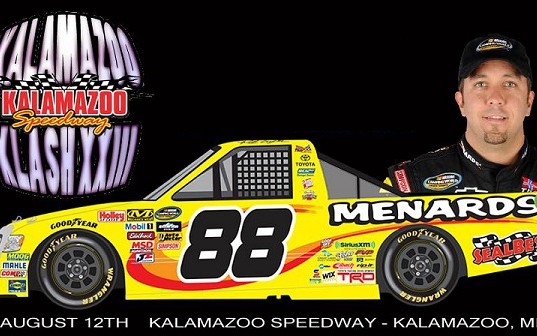 Matt Crafton Climbs into Kalamazoo Klash Ride
kalamazoo
As if names like Terry Senneker and Tyler Roahrig don't draw enough attention to the Kalamazoo Klash, there are always a few NASCAR drivers who bring some added star power. This year two-time and defending NASCAR Camping World Truck Series champion Matt Crafton throws his name in the hunt for a win in the biggest Outlaw Late Model race in the country.
"It's definitely an honor and it's a cool deal," Matt Crafton told Speed51.com powered by JEGS. "It's been a long, long time since I've been in one of those cars, an outlaw car at least, and I'm looking forward to driving one."
Last year it was NASCAR Sprint Cup winner Kyle Busch who tried to take on the 3/8 mile track in Kalamazoo, MI. He brought home the win in the ARCA/CRA Super Series event, but was forced to pull out of the Klash just 30 laps in.
As Crafton prepares for the race next Wednesday, the driver of #18 M&M's Toyota was one of his first calls he made to find out some information.
"I talked to Kyle Busch today and asked some pointers and he told me some stuff to expect from the race track and those kind of cars at Kalamazoo. Hopefully he gave me the proper stuff to go by," said Crafton with a laugh.
Not only has it been awhile since Crafton climbed behind the wheel of an Outlaw Late Model, but it will be the first time he's ever seen or raced at Kalamazoo Speedway, dubbed the fastest 3/8 mile track in the world.
"Just gotta figure the track out for one," admitted Crafton when asked what his goals would be. "They say it's really round, it's a real short track and it's the way I grew up racing, so I look forward to it, to be honest. It's going to be a lot of fun. I'll just try to figure out all the things I need to do to get the car set-up during the day."
Crafton might have an edge due to the fact he'll be piloting a Terry Senneker prepared race car. Senneker has won three-straight Klash events and a total of four overall. Crafton knows he will be leaning on Senneker a lot for set-up guidance.
"You have high expectations every time you get in a race car," said Crafton. "You want to run well and contend to win, that's what it's all about."
The Kalamazoo Klash takes place Wednesday, August 12th at Kalamazoo Speedway. Tickets are still available. For more information please visit kalamazoospeedway.com. The event will also be broadcasted live on Speed51.com powered by JEGS. Race fans can purchase the Klash Pay-Per-View broadcast on SPEED51.com.