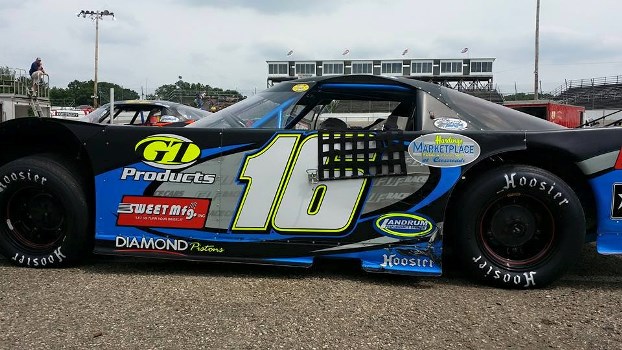 Lyons Wins Lane 75 Presented by Raceceiver
kalamazoo
Brandon Lyons picked up a ride at the 11th hour and ended up taking that ride all the way to victory lane in the Lane 75 Presented by Raceceiver for the NASCAR Whelen All-American Series Outlaw Super Late Models Saturday night at Kalamazoo Speedway. Robbie Ferrier finished second ahead of Mark Shook, Matt Frazier and Mike "Bubba" Brooks. Jerry Pierman led the second half of the top ten over Billy Shannon, Jeff Bozell, fast qualifier Rick Senneker and Brandon Zachary. Shook now leads the championship standings by just 14 points over Brooks with Shannon (-36), Bozell (-48) and AJ Foote (-123) still in the hunt as well.
The thirty lap Super Stock feature saw fast qualifier Buddy Head drive from deep in the field to the front and then hold off Lane 75 winner Brandon Lyons for the victory by just 0.658 seconds. Mike Williams finished an impressive third ahead of David Guarino and Chris Shannon. Rodney Smith ended up sixth beating out Jim Leonard, Tom Wright, Jerry Jansen Jr. and Bill Hartman. Notable finishers included former champion Kenny Head, who finished 11th. Wright and Hartman took the two heat victories. Buddy Head's point lead now sits at 57 over Lyons, with Kenny Head just 142 points back in third.
The Pro Stocks ran the Pro Stock Rumble Presented by Boyne Machine and saw fast qualifier Matt Corliss come from deep in the field to pick up the victory. Chaz Hook finished seconds ahead of Greg Brown, Barry Jenkins and Keith Wilfong. The second half of the top ten was led by Wil Raber over former champion Greg Haynes, Danny Oxford, Zack Cook and Doug Smith. Notable finishers included Brent Hook, who finished 18th. Oxford and Dave Hopwood won the two heat races.
In the Mini Stock division Logan Knight set quick time with a lap of 14.548 seconds at 92.796mph. Knight then started in the 10th position and drove his way through the field to collect the victory in the twenty lap feature. Former champion Frank Stager finished second beating out Chuck Greer, former Outlaw Cyber Stock champion Keith Dunham and Brian Echtinaw. Echtinaw and JR Long collected the heat race victories.
Keegan Dykstra set quick time and the Outlaw Cyber Stock division and then drove from 11th spot all the way to the front and held on for the victory in their twenty lap feature. Dan Rigoni finished second ahead of Scott Custer, Kyle Jansen and Nick Layman. Layman and Brian Gregersen won the heat races.
Nineteen Flip Flop Cyber Stocks were on hand and when the smoke cleared it was Brock Sweeter picking up the feature win. Fast qualifier Brad Hall finished second ahead of Keith Ribble, Rick LaDuke and Jonathon Schuyler. Sweeter and Brooke Derrick collected the heat race victories.
This Saturday night, July 18 another full 6 in 1 show returns to the high banks of the Zoo featuring the Steensma 50 for the NASCAR Whelen All-American Series Outlaw Super Late Models. With the championship points battle really starting to heat up Mark Shook will look to put a little breathing room between himself, Mike "Bubba" Brooks, Billy Shannon, Jeff Bozell and the rest of the field. Also in action will be the Super Stocks, Pro Stocks and Mini Stocks, who will be running Mini Stock Mamba Presented by Pro Automotive. Outlaw Cyber Stocks and Flip Flop Cyber Stocks will complete the program.
Kalamazoo Speedway plays host to some of the best entertainment events in the state of Michigan, and welcomes corporate groups, family outings, suite rentals, and clean family fun. Call 269-692-2423 Monday through Friday to learn more!
For more information on Kalamazoo Speedway visit www.kalamazoospeedway.com.
Be sure to become a fan of Kalamazoo Speedway for all of the latest news and contests at: www.facebook.com/KalamazooSpeedway.
You can also follow Kalamazoo Speedway on our official Twitter page: www.twitter.com/kzoospeedway.