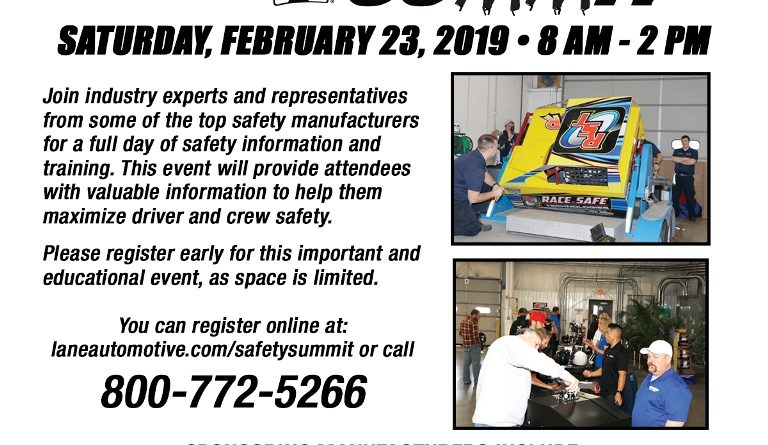 Lane Automotive 2019 Safety Summit Information
kalamazoo
Kalamazoo Speedway would like to make sure drivers know about the Safety Summit that Lane Automotive is running on February 23 at its headquarters in Watervliet. In addition to the events listed in their press release, drivers will be able to score great deals from several vendors such as OMP, MPI, Arai and HANS (just to name a few). Drivers that have seat belts from Sparco, Pyrotect, Racequip, OMP, Crow or Impact will also be able to trade in their old seat belts and get $20 off a new set of seat belts.
Safety is and must be top of mind for racers and crews alike. We will be hosting our second annual safety summit at Lane Automotive headquarters (8300 Lane Drive, Watervliet, MI 49098) on Saturday, February 23, 2019, from 8:00 AM to 2:00 PM.
Join industry experts and representatives from some of the top safety manufacturers for a full day of technical and practical safety information and training and learn about the latest trends in safety equipment. With presentations, demonstrations, and product training, this event will provide attendees with valuable information to help them maximize driver and crew safety.
For the latest updates on presenters, training sessions, and attending manufacturers, and to register online, visit laneautomotive.com/safetysummit
You may also register by calling 800-772-5266.