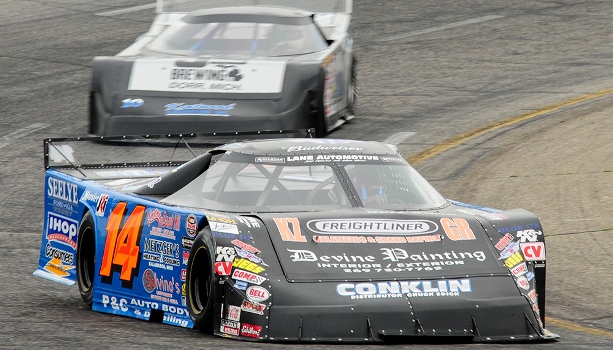 Kalamazoo Speedway Tech Bulletin
kalamazoo
Going to Fridays last year was a huge learning curve as we had to find a way to cut down our total hot lap & qualifying time period easily in half. We spent many hours that winter developing a plan that really worked out very well. Now as we dissect it further, we see that we didn't allow the proper time for teching cars before hot lapping, which in turn ends up being our drivers qualifying time.
And now that our good friends at Hoosier tire has developed a much racier tire specially designed for the older used up asphalt that most short tracks have, we find that this new D-800, (which proved to be a very good tire), seems to be attracted to tire soak more so than its old counterpart (the 970) did.
So between the possibilities of tire soak looming out there as well as perhaps giving too much free time to our savvy teams to think about ways to undermine the system, we are serving the following notice to all of our teams:
First off…….TIRE SOAK IS NOT LEGAL AT KALAMAZOO SPEEDWAY in any way period!
You all know what your tread width rule, your wheel width rule & your spoiler height rule is…… it's printed on line in black & white in the rule section for each class. If you are caught during any time of your hot lap/qualifying session with (but not limited to) tires that are soaked, your tread or wheel width too wide, your spoiler height to high, or if your car isn't at legal weight, your qualifying time will be scratched for that night & you will start at the tail of the heat & feature.
If you are caught during any of your racing events with the above mentioned intentional infractions, you will lose all points & all money for the entire night of that event.
Tire soak and intentional infractions, such as too wide of tread or wheel widths, your deck lid/spoiler raised way up or a weights & measures infraction will not be tolerated PERIOD!
Also you will notice the very first rule that is posted on all 5 weekly classes as well as in the general rules, which read as such: All cars will have working Mufflers (regardless how long you have run without them) & all exhaust will exit below the car. Starting at week one on April 28th, every car in every class will follow this rule, including private track rentals. Even the traveling cars will have their exhaust pointing down below the cars or they will purchase one of our new deflectors for $40 and they will be properly installed over their exhaust before they go out on to the track. We will wave this rule for the two Wednesday Late Model Specials, but besides those two shows, NO EXCEPTIONS-Not Even for the Intimidator!!