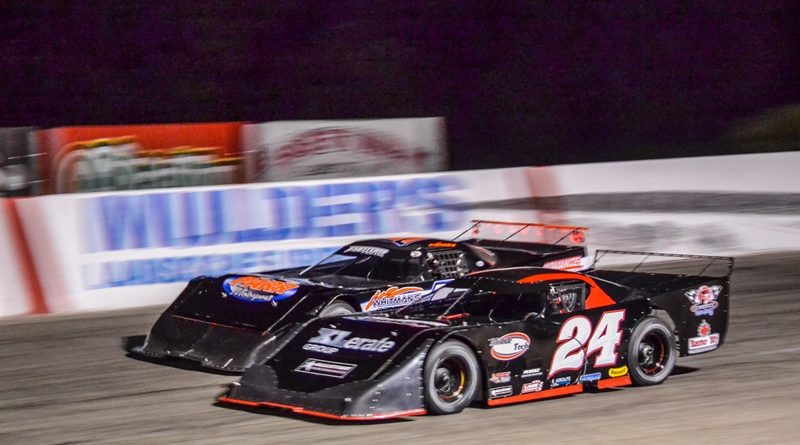 Kalamazoo Speedway Fights Back and Wins Against Ma Nature!!
kalamazoo
Opening Night back in April, Kalamazoo Speedway had 125 cars, but Season Championship Night brought out the highest car count of 2018, with 135 drivers bringing out their cars to battle. After a quick rain shower, the cars took to the track for qualifying. Jerry Ballard was the quickest in the field of Zoo Stocks. In the Outlaw Front Wheel Drive division, Paul Bittle ended qualifying top of the scoreboard. The Street Stock field consisted of 27 cars, with Kyle Ribble picking up fast time again this week. The Late Model Sportsman division fast time award went to Buddy Head. The Outlaw Super Late Models had a strong field of 26 cars with Kalamazoo Klash winner Tyler Roahrig setting fast time.
Two divisions had enough cars for a last chance race. The Street Stocks rolled out first and Taylor Sexton picked up the win, transferring her into the A feature. Second through fourth place also transferred, Joe Gonzales, Heath Bronkema and Bob Miller. In the Outlaw Super Late Model last chance race, Chris Nash won. Second through fourth transfer positions went to Tom Rutherford, Jeff Bozell and Rob Hardy.
The pressure was on for Zoo Stock driver, Curtis Towne to finish no more than 6 positions behind Colin Bozell to win the championship. Towne was able to fight his way through traffic to where he would win the points, but on the white flag lap, he broke out of his time and was disqualified from the race. The championship went to Rookie Driver Colin Bozell. Also breaking out of his time and being disqualified was fast time Jerry Ballard. Grant Lofquist took home the feature win. Second place went to Mason May followed by Rielly Meade, Colin Bozell and Cody Day.
The Outlaw Front Wheel drive division was next up with their feature event. Jason Essex started the feature with the championship title already in hand. The field of 20 cars did not disappoint for an exciting feature. They went green to checkered flag with two and three wide racing all throughout the race. Todd Metz Jr. came out victorious after starting back in 16th. Andrew Losey finished second followed by Paul Bittle, Kyle Jansen and Jason Essex.
After 15+ years of retirement, Al Heritz led the field to green along with John Chapman. Chapman took the early lead, battling with Andy Rutherford for 10 laps before Rutherford was able to take the lead. He held it for a few laps, battling side by side until Keith Ribble made a bold, three wide pass for the lead. Ribble set sail, taking home the win. Second place went to Tom Rutherford with Zack Cook finishing in third place. Fourth place went to veteran driver, Mike Zordan and Keith Wilfong finished fifth. All season long, the Street Stocks never failed to put on a stellar show. Tonight was nothing short, going from start to finish without a caution. Greg Brown started the race in 12th position and finished far enough ahead of Zack Cook to win his first every Kalamazoo Speedway track championship
As fast qualifier Buddy Head pulled out onto the speedway for his feature event, he clinched yet another championship in the Late Model Sportsman division. Unfortunately, he was victim to a stuck throttle ending his night in the turn 3 wall with a 19th place finish. After a thrilling side by side battle young Dylan Stovall picked up the feature victory, beating Eric McGlothlen by just 0.029 seconds. Two-time track champion Jeff Vochaska finished third beating out Austin Maynard and Bill Tomlinson. Two-time Outlaw FWD champion Jerry Jansen led the second half of the top ten over Ryan Minton, Ryan Stutz, Jerry Zachary and Denver Sweat. Notable finishers included four-time track champion Kenny Head (14th), 2015 Outlaw FWD champion Keegan Dykstra (16th) and AJ Foote (17th).
Two of the best drivers in the Midwest put on a fantastic show in the 100 lap Outlaw Super Late Model season finale. When the dust settled it was fast qualifier and Kalamazoo Klash winner Tyler Roahrig in victory lane, just edging out Jeff Ganus for the win. Two-time track champion Brian Bergakker finished a solid third ahead of Adam Terry and two-time defending champion Mark Shook. Steve Dorer finished sixth, just one position ahead of Todd Harrington, whose seventh place finish was good enough to claim him his first Kalamazoo Speedway track championship. Doug True, Rick Senneker and Andrew Brest completed the top ten. Notable finishers included Matt Frazier, who finished a disappointing 19th.
Coming up this SATURDAY, September 1 it is the fan favorite "Call of the Wild". This is the one event each year where the rule book is thrown in the garbage can and it is a true "Run What Ya Brung" event. The Midwest Compact Touring Series will join the event this season to make it even bigger yet.
Kalamazoo Speedway is the place to be in 2018 for fast, clean, family fun! Kalamazoo Speedway plays host to some of the best entertainment events in the state and welcomes corporate groups, family outings and suite rentals. Call 269-692-2423 Monday through Friday to learn more or visit the Kalamazoo Speedway website.
For all the latest news and contests check out www.facebook.com/KalamazooSpeedway.
You can also follow Kalamazoo Speedway at www.twitter.com/kzoospeedway.