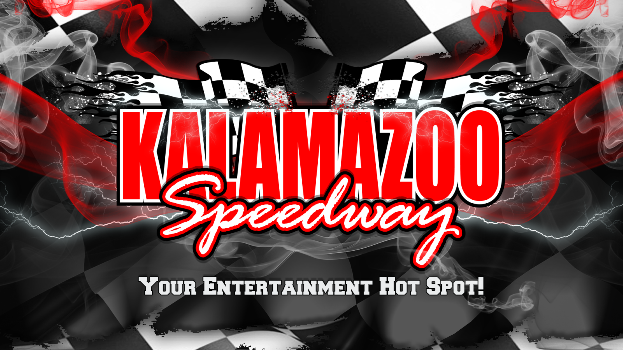 Kalamazoo Speedway Announces Return to Friday Night Racing in 2016!!
kalamazoo
After countless hours of meeting, deliberations, phone calls, emails, reading fan and driver surveys and much more Kalamazoo Speedway officials have made the decision to return to Friday night racing for the 2016 season. The announcement was made during the annual awards ceremony Friday night at Western Michigan University by owner/promoter Gary Howe. "This is without a doubt the toughest business decision I have ever made" said Howe, who took over ownership of the track before the 2001 season. The switch to Friday's will drastically alter the race day schedule of the track, as the preliminary plan is for the pit gates to open at 4:45 (changed from 2:00 in 2015), with practice/group qualifying starting at 5:45 and racing starting at 7:30. Much of the feedback from race teams was that they were at the track for so long on race days, with another common complaint being that there was "too much practice". A common theme among fans was that there were simply "too much else going on Saturday's" including weddings, graduation parties, family reunions, children's sports, other racing events, etc. The switch to Friday nights should help both of these common complaints, as most drivers should be spend 5-6 hours at the track on Friday night and then have the rest of the weekend to spend with their families/friends or chose to race another one of our great local racetracks. Howe said "I am betting my business on this move and I truly believe it will work".
In addition to the Friday announcement Howe also announced that all six divisions would return for the 2016, despite several rumors.  A sneak peak at the 2016 schedule was also announced, as several of the special events have their dates set already. An addition of a new special event, the Gary Terry "Follow Your Dreams" 125 presented by Quick Fuel Technology will be a 125 lap, $5,003 to win ($753 to start) event for the Outlaw Super Late Models on Wednesday, June 8. The event will also have a $1,003 to win Pro Stock race on the card. Several more exciting details for this event are in the works and will be announced at a later date. The special events schedule for 2016 is below:
Friday, April 29 – Intimidator 100
Wednesday, June 8 – Gary Terry "Follow Your Dreams" 125 presented by Quick Fuel Technology
Wednesday, August 10 – Kalamazoo Klash XXIV
Saturday, September 3 – Call of the Wild
Saturday, September 17 – Night of Destruction
Friday, September 30-Sunday, October 2 – Super Shoe Nationals XXX
Within three weeks, the full schedule for 2016 will be released. The newly revamped schedule will reflect almost as many changes & new activities to follow suit with the race day change. The 2016 rules will be posted within three weeks as well although unlike the schedule; there will be very few rule changes in any of our weekly classes.
Kalamazoo Speedway plays host to some of the best entertainment events in the state of Michigan, and welcomes corporate groups, family outings, suite rentals, and clean family fun. Call 269-692-2423 Monday through Friday to learn more!
For more information on Kalamazoo Speedway visit www.kalamazoospeedway.com.
Be sure to become a fan of Kalamazoo Speedway for all of the latest news and contests at: www.facebook.com/KalamazooSpeedway.
You can also follow Kalamazoo Speedway on our official Twitter page: www.twitter.com/kzoospeedway.