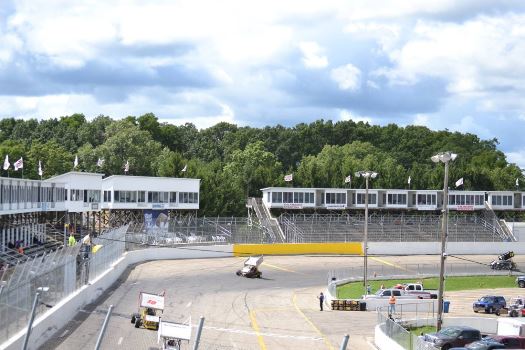 Kalamazoo Features the Speed of Sprint Cars Tonight!
kalamazoo
Aaron Pierce's qualifying efforts at Kalamazoo Speedway have been spectacular enough to warrant an early arrival to the world's fastest 3/8-mile oval. In 2015 Pierce blistered Kalamazoo with a lap of 10.114 seconds on his first qualifying lap and might have been faster had he not slipped on the second, having to chase his car up the banking in turn four to avoid pile driving the wall.
While a sprint car is not likely to approach Andy Bozell's 9.465 second lap that was set at the famous Call of the Wild event in September of last year, that record was set using a highly modified stock car with a lexan wall on the left side of the car. Pierce's laps are done essentially in a sprint car in the same trim used to race with.
Kalamazoo is one of the few venues in racing that produces impressive speed and great side by side racing. The round layout always provides for multiple groove racing and is normally one of two tracks I normally recommend for someone's first pavement sprint car experience. Switching to Friday nights in 2015 Kalamazoo sets up the first of a two night tour in the area with the tour heading South Bend Speedway on Saturday.
Another change fans will experience is Kalamazoo and switch to Friday nights. Kalamazoo promoter Gary Howe announced the change for 2016 and so far the return to Friday night racing at Kalamazoo has been a success.
"Friday has been a pleasant surprise for us," said Howe. "It has worked out very well for us."
As for a new track record Howe is unsure, but agrees that Kalamazoo is one of the best venues for pavement sprint car racing.
"(Sprint Cars) always put on a great show at Kalamazoo, and we're looking forward to having them back on Friday."
The first hot lap session for the sprint cars is schedule for 4:00 with qualifying at 6:35 p.m. Racing is slated to start at 7:30.
By T.J. Buffenbarger (tjslideways.com)