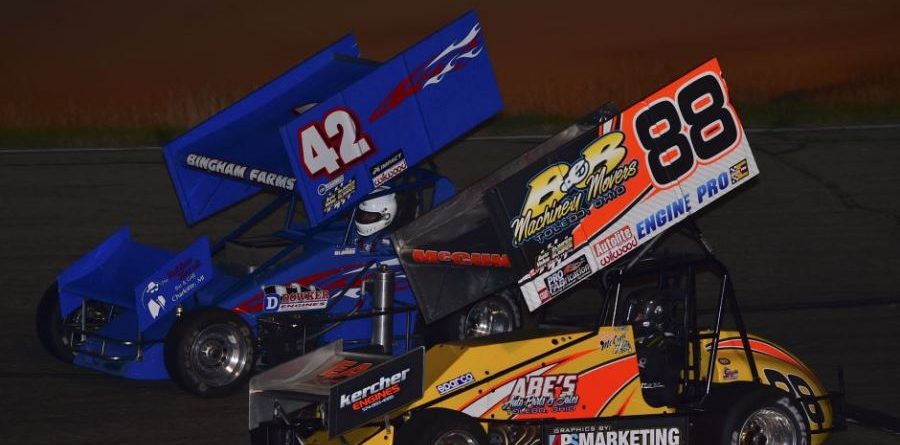 Jerry Landon Klassic at the Kalamazoo Speedway This Sunday, August 21st
kalamazoo
(Kalamazoo, MI) Windy City Promotions will be leasing the Kalamazoo Speedway on Sunday, August, 21st for the Jerry Landon Klassic. This will be the first time since 1997 that this race will be run in honor of the great Jerry Landon. The event will feature for the first time ever in the state of Michigan two sprint car groups in the same day on Asphalt.
The Must See Racing Winged Sprint Cars and Michigan Traditional Non-Winged Sprint Cars will be the Main Event for the evening. The Midwest Midgets, Midwest Compact Touring Series, and Midwest Hornets will round out the show. The Michiana Vintage Racers will also be doing an exhibition during the evening. The entire show will feature a $35K purse to bring the best open wheel racers around to the Kalamazoo Speedway.
"It's an honor and privilege to be able to honor one of the greatest open wheel racers from his time," stated, Andy Jach, Windy City Promotions Promoter. "We look forward to seeing some of the greatest open wheel drivers in the Midwest racing for Jerry."
Some of the expected drivers in the Must See Racing Sprint Cars are Teddy Alberts, Jason Blonde, HD Carter, Jerry Caryer, Jason Cox, Kyle Edwards, Grant Galloway, Ryan Gillwater, Ryan Litt, Jummy McCune, Kyle Moonen, Kris Leming, Chris Neunschwander, Tyler Roahrig, Bobby Santos, Derek Snyder, Joe Speakman, Doug Stepke, and John Turnbull. The Michigan Traditional Sprints are expected to see Doug Dietsch, Don Dietsch, Mark Irwin, Joey Irwin, Don Hamilton, Harold Carter, Mark Strpko, Tom Patterson, Tony Main, Matt Goodnight, and Joe Speakman. The Non-Winged Sprints will also see Nick Landon, the son of Jerry, try to take home the win.
The racing action will begin at 6:00PM sharp with gates opening at 11:30AM. We encourage all fans to get there early with qualifying starting at 4PM for the Sprint Cars. Adult General Admission is $20, Students 11-16 $10, Kids 6-10 $5, and kids 5 and under free. Please visit www.kalamazoospeedway.com or www.midwestcompacts.com for information on the upcoming event. You may also contact Andy Jach at (312)-722-4433 for any information or questions on this event.
[gview file="http://www.kalamazoospeedway.com/wp-content/uploads/2016/08/Annual-Jerry-Landon-Memorial-Race.pdf"]