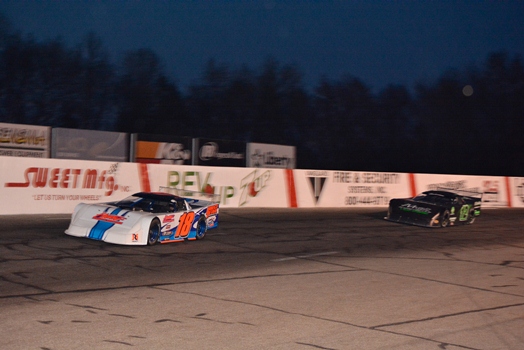 Instead of Going Home Ganus Goes to K-Zoo Victory Lane
kalamazoo
Jeff Ganus wanted to leave the Kalamazoo Speedway and head home after practice on Wednesday afternoon.  A few hours later he found himself celebrating one of the biggest wins of his career in the 23rd Annual Kalamazoo Klash on the frontstretch of the fast 3/8-mile racetrack.
Ganus said he struggled in practice on Tuesday evening, so they worked on the race car until the early hours of Wednesday morning.  However he still wasn't happy with the race car after his first couple runs of practice.
"We got here today and I was ready to go home," Ganus told Speed51.com powered by JEGS.  "We changed so much stuff after qualifying and we hit on a little bit of something."
They definitely hit on something, because when Ganus got to the lead he was almost untouchable.  At times Ganus led by over a straightaway on second-place.
However, at the end of the night Ganus had to hold off a hard-charging Brian Bergakker on a restart with less than 10 laps to go.
Bergakker fought to stay right on Ganus' bumper for the final few laps, but with spotters on the radio, Ganus didn't know just how close Bergakker actually was.
"Brian always runs good at Kalamazoo and you don't have mirrors or a spotter so you really don't know," said Ganus.  "There were times when I thought I could hear him well and there were times when I couldn't hear him.  You just don't know and that's what's kind of cool about not running radios.  It puts it more in the driver's hands."
The lack of spotters came into play earlier in the race when the odds-on favorite Terry Senneker Jr. spun on the frontstretch and had another car plow into the back of his own no. 37 machine.
"I got loose going into three and I never got it back underneath me," said Senneker.  "It seemed like we sat there for four or five seconds before I got clobbered."
Senneker was chasing two records on Wednesday night.  He had won three straight Klashes, and a fourth would have been a new record.  A win on Wednesday also would have given him five Klash victories, more than anybody else in the history of the race.  But Senneker said he couldn't be too disappointed.
"It's disappointing, but I'm happy we had a good car," Senneker said.  "I'm happy we've won as many races as we have.  Obviously we're upset, but we can swallow it.  We've had a lot of success."
Ganus has also had a lot of success, especially recently.  He scored a dominating win just a few days ago at Dixie Motor Speedway (MI), and he followed that up with his first ever Kalamazoo Klash win.
"We've been pretty fortunate to win a lot of races this year," said Ganus.  "We kept talking all summer about how cool it would be to win the Klash because it's such a prestigious race.  There's just no better feeling."
For an on-demand replay of the Trackside Now coverage from Kalamazoo Speedway presented by JRI Shocks and Senneker Performance, click here: http://speed51.com/trackside-now-kalamazoo-klash-xxiii-practice-day-3/
-By Rob Blount, Speed51.com Northeast Editor – Twitter: @RobBlount