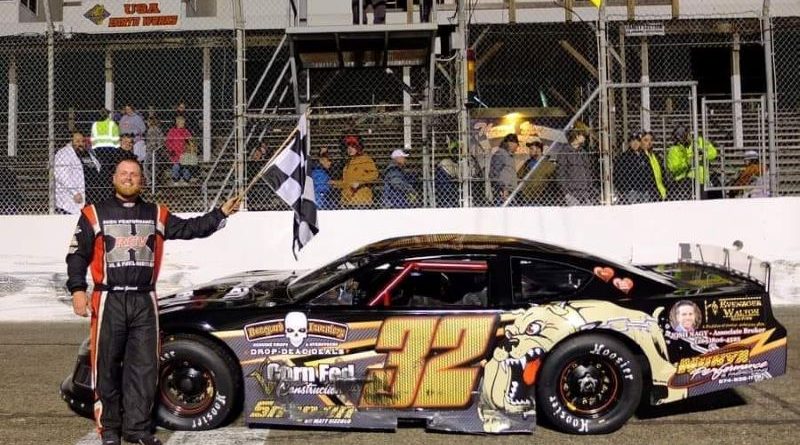 Garrett Wins Late Model Sportsman Feature on Big Bucks Night @ the Zoo
kalamazoo
Chris Garrett held off a hard charging Jon Beach to pick up the Late Model Sportsman victory Friday night at Kalamazoo Speedway. Beach had his second consecutive runner up finish beating out fast qualifier Buddy Head, Keegan Dykstra and Lane Head. Chris Shannon led the second half of the top ten over Jeff Bozell, Ryan Minton, Keith Wilfong and Ryan Stutz.
For the second consecutive week Zack Cook put on a great show in winning the Street Stock main event. Fast qualifier Kyle Ribble started deep in the field and drove all the way to second ahead of Zach Westdorp, Greg Brown and Brandon Zachary. Veteran driver Mike Zordan finished sixth ahead of his son Josh Zordan, Barry Jenkins, last chance winner Steve Smith and Heath Bronkema.
The Midwest Compact Touring Series was in town for a $1,000 to win event and saw Paul Bittle end up in victory lane. Fast qualifier Gabe Carr finished second ahead of Tom Gossar, Todd Metz and Chad Gray. Jeff Sayles finished a solid sixth while Adam VanAvery, Wayne Stack, Todd Metz Sr. and Ryan Hollister rounded out the top ten. Ryan Diamond won the 'B' Feature.
Ross Bergman picked up the win in the highly competitive Zoo Stock feature holding off Jorden Brinkert, Ed Clawson, Logan Hiemstra and Kyle Knapp. Renae Letts led the second half of the top ten over Rielly Meade, Jared Blanchard, Matthew Elsey Jr. and Logan Meade. CJ French picked up the win in the B Feature.
This Friday night will see a four in one show featuring the return of the wicked fast Outlaw Super Late Models. Also in action will be the Late Model Sportsman, Street Stocks and Zoo Stocks.