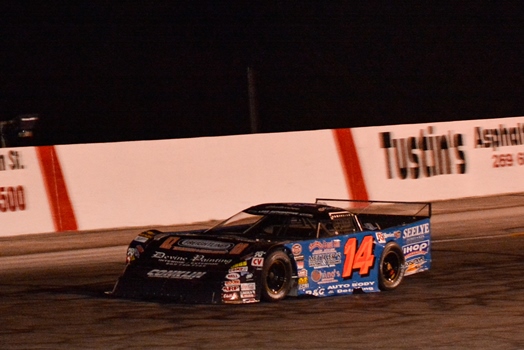 Full Show plus Teen Night & Spectator Drags Tonight at Kalamazoo Speedway!
kalamazoo
TONIGHT, May 13 the 2016 Kalamazoo Speedway season continues with a full 5 in 1 show featuring the NASCAR Whelen All-American Series Outlaw Super Late Models, Super Stocks, Pro Stocks, Outlaw Cyber Stocks and Flip Flop Cyber Stocks. It is also the first "Teen Night" of the season as admission for all kids 6-15 is just $2!  There will also be several "teen activities" throughout the course of the event, including corn hole and a selfie contest where teens can win a pizza party for them and their friends!  Tonight is also the first Spectator Drag event of the season as people bring their street vehicles down on the track and race each other for a cash prize and a lot of bragging rights!
Last week Phil Bozell picked up the win in the Outlaw Super Late Model division, joining Intimidator 100 winner Tyler Roahrig as the early season winners.  Drivers expected to contend for the victory this week include last week's runner-up Rick Senneker, Matt Frazier, former Plymouth Speedway Late Model champion Adam Terry, three-time defending champion Mike "Bubba" Brooks, Mark Shook and several others.
In the Super Stock division 4-time track champion Brandon Lyons has started the season off with two impressive victories but defending champion Buddy Head is determined to put a stop to that winning streak tonight.  Look for 4-time track champion Kenny Head, Cory Pressler, Rodney Smith and others to challenge for the victory as well. Mike Zordan picked up the win last week in the ultra-competitive Pro Stock division but defending champion Matt Corliss, last week's fast qualifier Keith Wilfong, former champion Greg Haynes, Greg Brown and more will be looking to park their cars in victory circle tonight. In the Outlaw Cyber Stocks, Dan Rigoni enters the night as the favorite but Brian Gregersen, rookie Mason Dykstra, Doug Nelson and 2015 Flip Flop Cyber Stock champion Brock Sweeter cannot be ruled out. Finally the Flip Flop Cyber Stocks see Lane Head try to go back-to-back, while Travis Reniger, Tony Lobretto, Valerie Bozell, Joey Failing and a whole group of Rent-a-Rides look to keep him from doing just that.
On any given night, anything can happen. Favorites can falter, history can be made. Don't miss out!  Gates open at 4:30, group qualifying starts at 5:45 with racing starting at 7:30.
Kalamazoo Speedway will be the place to be in 2016 for fast, clean, family fun! The full 2016 Kalamazoo Speedway Schedule can be viewed at www.kalamazoospeedway.com. Kalamazoo Speedway plays host to some of the best entertainment events in the State and welcomes corporate groups, family outings and suite rentals. Call 269-692-2423 Monday through Friday to learn more or visit the Kalamazoo Speedway website.
For all the latest news and contests check out www.facebook.com/KalamazooSpeedway.
You can also follow Kalamazoo Speedway at www.twitter.com/kzoospeedway.