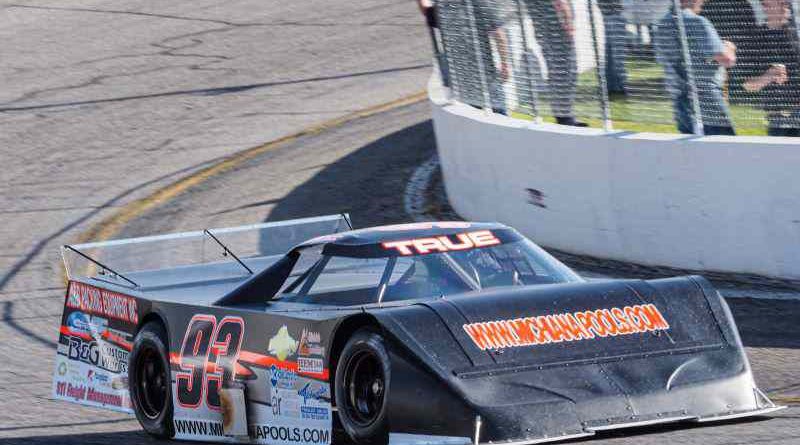 Doug True Drives From Last to Victory Lane @ Kalamazoo
kalamazoo
Veteran Doug True set fast time, started dead last, drove all the way to the lead and held on to win the Outlaw Super Late Model feature Friday night at Kalamazoo Speedway. Rick Senneker finished second ahead of Matt Frazier, Craig Everage and former Kalamazoo Klash winner Tom Thomas. Point leader Andrew Brest led the second half of the top ten over Rick Hahn, Chad Poorman, Dave Sensiba and defending champion Todd Harrington. Notable finishers included Intimidator 100 winner Adam Terry, who finished a disappointing 14th. Frazier and Poorman won the heat races. After four races seven drivers are still within 90 points of the lead, promising that the next two months should be very interesting for Kalamazoo Speedway Outlaw Super Late Model fans. Brest is the current leader by just 23 points over Harrington with True (-35), Terry (-44), Everage (-62), Senneker (-66) and Frazier (-90) all within striking distance.
Not to be outdone by True, Chris Shannon set fast time in the Late Model Sportsman class, started in 13th position and drove all the way to victory lane in the 35-lap feature. Jesse VanAvery finished second ahead of Chris Garrett, 2015 Outlaw FWD champion Keegan Dykstra and point leader Buddy Head. Lane Head finished a solid sixth beating out Ryan Stutz, Dylan Stovall, Bill Tomlinson and Bob Bliss. Father and son Buddy and Lane Head collected the heat race victories. Shannon took fifteen points out of Buddy Head's lead and now trails by only 112, with Garrett 134 out of the lead in third.
Colin Bozell picked up the victory in a very hard-fought Street Stock feature holding off Shane Miller, Brandon Zachary, Tom Rutherford and fast qualifier Kyle Ribble for the win. Four-time track champion Mike "Bubba" Brooks finished sixth ahead of Bob Miller, Zack Cook, Barry Jenkins and defending champion Greg Brown. Heat races were won by Ribble, Brown and Cook while Bug Schisler picked up the win in the last chance race. The Street Stock point battle is also a tight one with Kyle Ribble just 18 points up on Brandon Zachary with Cook (-28), Bozell (-113), Miller (-125) and Jenkins (-147) all close behind.
Pete Doxey came out on top of the twenty-five lap Outlaw FWD feature. Gabe Carr set fast time and finished runner-up beating out Adan VanAvery, Ben Wilcox and Drew Losey. Wayne Stack finished sixth ahead of Kyle Jansen, Andrew Peters, John Munro and Makena Snyder. Notable finishers included point leader Corey Woods, who finished a disappointing 16th. Carr and Stack won the heat races. Adam VanAvery's third place finish vaults him to the top of the point standings over Woods (-9), Doxey (-76), Losey (-76), Gabe Carr (-80), Munro (113), Camille Lewis (-131) and John Carr (-155).
A great field of Zoo Stocks were on hand and when the dust settled it was young Matthew Elsey picking up the victory in the twenty-lap feature. Rielly Meade came home in second ahead of Matt Majewski (from last), Dillon Rose and Tod Watson. Ross Bergman led the second half of the top ten over CJ French, 2015 champion Brock Sweeter, Charles Anderson and Jared Blanchard. Notable finishers included Logan Hiemstra, who finished 12th. Heat race wins went to Elsey, French, Aaron Anderson and Drew Hosner. Point leader Jorden Brinkert won the 'B' Feature. Rielly Meade is now the point leader with Bergman (-59), Brinkert (-74), Blanchard (-75) and Hiemstra (-137) rounding out the top five.
This Friday night, June 28 is "Double Trouble Night" presented by Howe Patio & Windows. The Late Model Sportsman, Street Stocks, Outlaw FWD's and Zoo Stocks will all run double features. That's right fans will get to see EIGHT 'A' Features in the same night. For more information log onto www.kalamazoospeedway.com.