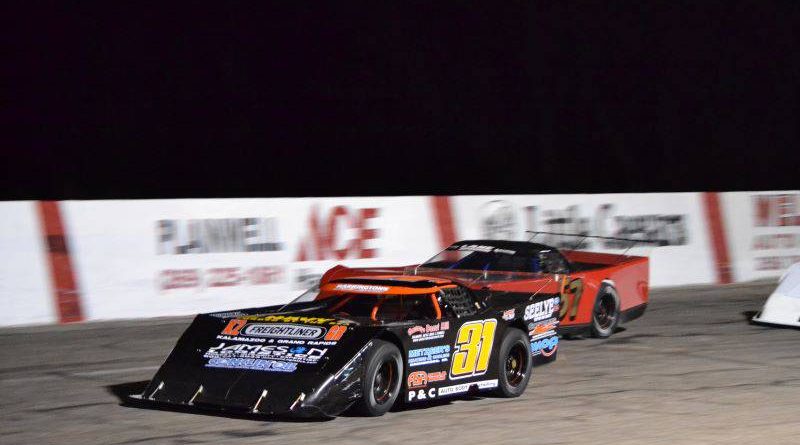 Defending Champion Victorious @ Kalamazoo
kalamazoo
Defending Outlaw Super Late Model champion Todd Harrington emerged victorious after an action-packed Outlaw Super Late Model feature Friday night at Kalamazoo Speedway. Harrington took the lead from eventual runner-up Craig Everage late in the race and held on for the victory. 1995 Late Model Sportsman champion Billy Shannon finished third ahead of Rick Senneker and Matt Frazier. Andrew Brest led the second half of the top ten over Bill Tomlinson, Justin Lanting, Intimidator 100 winner Adam Terry and Dave Lober. Notable finishers included Doug True, who entered the night fifth in points, but finished a disappointing 17th. Steve Needles was the fastest qualifier while True and three-time track champion Matt Corliss collected the heat race victories. Brest now leads the point standings by just three points over Harrington with Terry (-16), True (-60) and Everage (-61), rounding out the top five.
The Late Model Sportsman put on a fantastic show as always, with twelve-time Outlaw Super Late Model track champion Andy Bozell ending the night in victory lane. Bozell set quick time, started deep in the field, was involved in an early race accident and still was able to come out on top. Seven-time champion Buddy Head finished second ahead of Chris Shannon, four-time track champion Kenny Head and John Long. Dylan Stovall finished a solid sixth beating out 2016 Zoo Stock champion Lane Head, Keith Wilfong, Chris Garrett and Jesse VanAvery. Notable finishers included Jeff Bozell in 12th and 2015 Outlaw FWD champion Keegan Dykrstra, who came home 20th. Dykstra and Shannon won the heats. Buddy Head's point lead now sits at 127 markers over Chris Shannon, with Chris Garrett (-131) in third.
Corey Woods picked up the victory in the twenty-five-lap feature for the Outlaw FWD division. Paul Bittle was the runner-up finishing ahead of Adam VanAvery, Pete Doxey and John Munro. 2015 Zoo Stock champion Brock Sweeter wound up sixth beating out Camille Lewis, Ben Wilcox, Drew Losey and Robby Siegel. Notable finishers included John Carr, who finished 12th and Mike Long, who came home a disappointing 19th. Gabe Carr was the fastest qualifier and won his heat race, which VanAvery picked up the win in the other heat. Woods now leads the points by 44 over VanAvery, with Losey (-105), Munro (-113) and Mike Long (-119) rounding out the top five.
The Auto Value Non-Winged Super Sprint Series was also in town for their first of two visits in 2019. Fast qualifier Aaron Pierce defeated Tyler Roahrig in a photo finish to collect the thrilling victory. Kyle O'Gara finished third ahead of Bobby Santos and Russ Gamester. Derek Snyder came home sixth while Taylor Ferns, Doug Dietsch, Teddy Alberts and Christian Koehler rounded out the top ten. O'Gara and Roahrig collected the heat race victories. The series will return to Kalamazoo on Friday, July 26 for their final visit of the season.
This Friday night, June 21 will see a full five in one show featuring the Outlaw Super Late Models. Andrew Brest now holds a slim lead in the point standings and will try to increase that lead while Todd Harrington, Adam Terry, Doug True and the rest of the field will be trying to take it away. The Late Model Sportsman, Street Stocks, Outlaw FWD's and Zoo Stocks will also be in action.