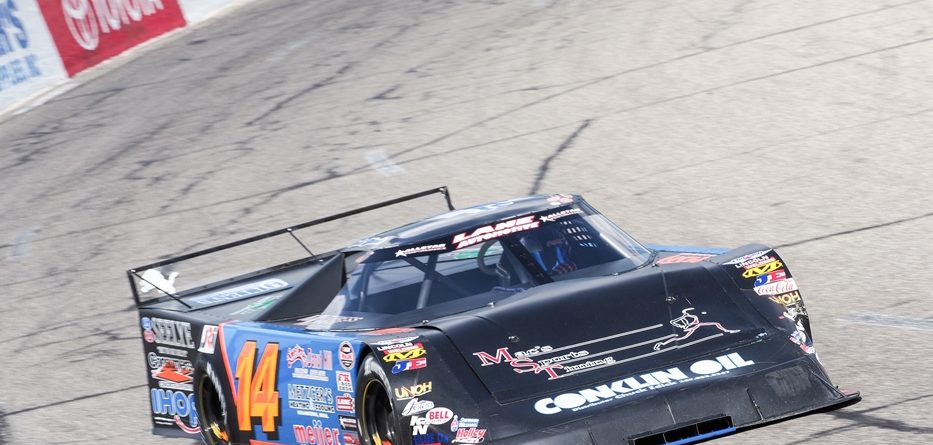 Defending Champ Wins Outlaw Late Model Feature @ the Zoo
kalamazoo
For the first Friday of 2017, the racers took to the track with zero percent chance of rain. Kalamazoo Speedway had a total of 91 cars in attendance in their five different divisions of racing. We also had 18 classic cars come to the speedway to show off their hot rods, parading them around the track during intermission. Quick times went to Mark Shook in Outlaw Super Late Models, Buddy Head in the Super Stocks, Greg Brown in the Pro Stocks, Paul Bittle in the Outlaw Cyber Stocks and Josh Nyberg in the Flip Flop Cyber Stocks.
The racing saw the Outlaw Super Late Models rolling off first for their heats. The two heat races were won by Jack Cook and Mark Shook. Next in the event were the Flip Flop Cyber Stocks, with heat wins going to Josh Nyberg and Tony LoBretto. The Outlaw Cyber Stocks had Ryan Hufford and rookie driver Taylor Sexton win their heat races. John Russell and Josh Zordan headed to victory lane for their heat races.
Flip Flop Cyber Stocks started out their feature with 20 cars, pulling out onto the track going left, only to be brought through the infield and turned around to go right. Josh Nyberg charged from 19th starting spot to win the race. He was followed by Kevin Sweat who started 15th and led a handful of laps. Third through fifth were Denver Sweat, Brock Sweeter and Nick Failing.
Lap one of the Outlaw Cyber Stock race saw several bold moves with three and four wide passing before being settled down by a caution. Nick Layman charged from 8th to 1st for the early lead. By lap 8 Paul Bittle had made his way from last starting position to lead the race. He went on to win with Corey Woods taking second position. Early leader Nick Layman ended up finishing third with Pete Doxey in fourth and Andrew Losey in fifth.
Pro Stocks rolled off next for their feature starting with 19 cars. The ever thrilling Pro Stocks did not fail to put on a show. Side by side racing action in the field caused several different cautions, collecting some of the divisions best. Josh Zordan jumped to the lead from the outside pole. He was passed by Zack Cook who had made his way from 12th starting position in just 11 laps. Zack Cook held down the lead until six to go when Greg Brown came from 15th starting spot and passed him, going on to win his second feature of the season. He was followed by Zack Cook, Kyle Ribble and veteran drivers Greg Haynes and John Chapman rounded out the top five.
Coming to the green of the Super Stock feature, several cars got caught up and wrecked. After coming to the pits, three of the cars were able to continue, with only Eric McGlothlen going away on the wrecker. After being involved in the wreck coming to green and going to the pits for repairs, Buddy Head made his way through the entire field to take the lead on lap 8. He went on to win his second feature of the 2017 season. After a hard fought battle, second place went to Nick Pressler followed by his brother Cory Pressler in third. Fourth place went to Adam VanAvery and Kenny Head finished fifth.
The Outlaw Super Late Models started their feature with a strong field of 17 cars. Racer Marty Crawford jumped out to an early lead, which he held for almost half of the feature. Mark Shook who started 10th overtook the lead on lap 21. Both Adam Terry and Todd Harrington were on the move, putting on a thrilling show for the fans as they worked their way through traffic. Mark Shook went on to the win the feature. He was followed by Adam Terry who finished 2nd after a last lap pass on Marty Crawford who ended up third. It appears Jeff Bozell's hard luck has turned around as he finished 4th in the feature. Fifth place went to Todd Harrington who made his way from last starting position.
Join us next week for King of the Wing Sprints as we have invaders from the west coast and down south. This will not be your ordinary sprint show; it's one you won't want to miss! The Outlaw Super Late Models and Super Stocks will also be running Thursday. Friday is the GT Pro Stock Bash featuring the Outlaw Front Wheel Drive show and Midwest Compact Touring Series. Friday is low dough night with adult tickets only being $8! Join us both nights at 7:30.