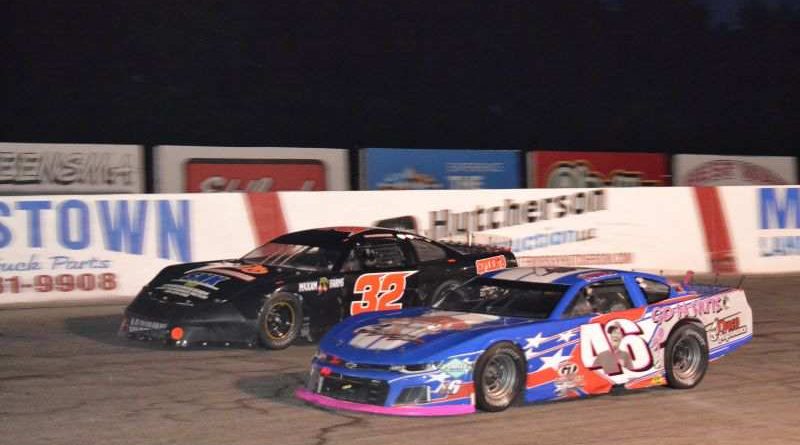 Chris Garrett & Buddy Head Win on "Double Trouble" Night @ the Zoo
kalamazoo
Chris Garrett picked up the victory in the first of two Late Model Sportsman features Friday night at Kalamazoo Speedway, collecting his third victory of the season. Jon Beach finished a solid second ahead of fast qualifier Chris Shannon, point leader Buddy Head and four-time track champion Kenny Head for the victory. Dylan Stovall led the second half of the top ten over Bill Tomlinson, Jesse VanAvery, Ryan Stutz and Keith Wilfong.
The second saw one of the most thrilling last ten laps of any race in recent memory. Buddy Head emerged with the lead from a four wide pass and held on to pick up the win over Beach, Shannon, Kenny Head and Stovall. Garrett finished sixth after winning the first feature followed by Stutz, Lane Head, Jeff Bozell and Ralph Wine. Budd Head's point lead remains at 112 points over Shannon with Garrett 154 points back in third.
As always, the Street Stocks put on a pair of good races with Tom Rutherford bringing home the victory in race number one. Three-time track champion Matt Corliss finished second ahead of Brandon Zachary, fast qualifier Kyle Ribble and 2017 champion Zack Cook. Colin Bozell finished sixth beating out Kyle Santora, defending champion Greg Brown, Barry Jenkins and Doug Gallandt. Notable finishers included Shane Miller, who finished 11th.
In the second feature Cook came out on top of a great battle with Ribble. Zachary finished third ahead of Corliss and Rutherford. Brown finished sixth beating out Jenkins, Santora, Miller and Gallandt. Notable finishers included Colin Bozell, who finished a disappointing 16th. Ribble's point lead is now 24 over Zachary with Cook just 32 points back in third.
In the Outlaw FWD class it was Corey Woods picking up the victory in the first feature. Gabe Carr broke the track record, started dead last and made it all the way to second spot ahead of Kyle Jansen, Wayne Stack and Pete Doxey. Point leader Adam VanAvery led the second half of the top ten over John Munro, John Carr, Drew Losey and Camille Lewis.
In race number two Doxey drove his was to the front and held on to beat Gabe Carr, VanAvery, Losey and Woods. Jansen finished sixth beating out Stack, John Carr, Munro and Andrew Peters. Notable finishers included Lewis, who finished 11th. Woods now moves to the top of the point standings over VanAvery (-5), Gabe Carr (-59), Doxey (-65) and Losey (-119).
The Zoo Stocks also ran two features with Tyler Reading going to victory lane in race number one. Logan Hiemstra was the runner-up ahead of Jorden Brinkert, Mason May and Ross Bergman. Dillon Rose finished sixth beating out fast qualifier Matthew Elsey, Mike Reynolds, point leader Rielly Meade and Kenny Head Jr. Notable finishers included Jared Blanchard, who finished 13th.
In the second feature Elsey collected the victory over Matt Majewski, Rose, Duane Green and Brinkert. Meade led the second half of the top ten over Bergman, Hiemstra, Reading and Head Jr. Blanchard once again has a disappointing finish of 12th. Meade continues to lead the points but the gap is now just 40 over Brinkert with Bergman (-51), Blanchard (-107), Hiemstra (-125) and Elsey (-139) all still it the hunt.
This THURSDAY, July 4, action continues with the fan favorite Red, White and Boom. It will be a night of thrills and spills feature Monster Trucks, a Motocross Aerial Stunt Show, Stunts by Scarecrow and much, much more. The night will conclude with Southwest Michigan's #1 fireworks spectacular!