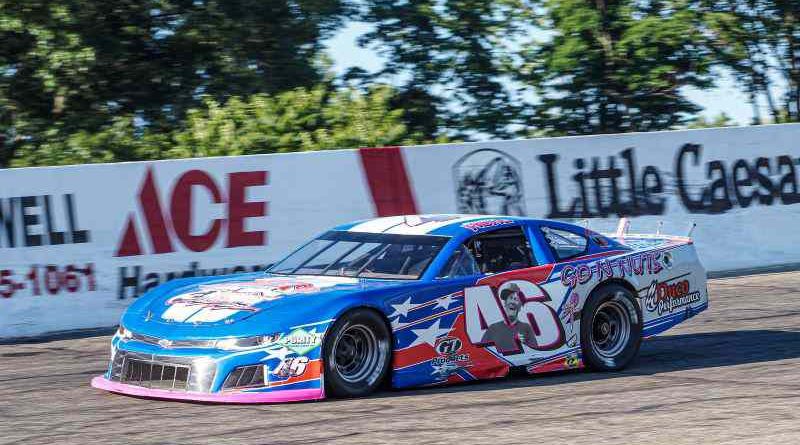 Buddy Head Wins on Big Bucks Night; Gets One Step Closer to Eighth Title
kalamazoo
Seven-time Kalamazoo Speedway Late Model Sportsman Champion Buddy Head made a late race pass on leader Jesse VanAvery to pick up the win in the $1,000 to win main event Friday night. VanAvery finished as the runner-up beating out 12-time Outlaw Super Late Model champion Andy Bozell, Dylan Stovall and Chris Garrett. Jeff Bozell led the second half of the top ten over fast qualifier Kenny Head, 2015 Outlaw FWD champion Keegan Dykstra, Ryan Stutz and Chris Shannon. Shannon and Garrett won the heat races. Buddy Head now leads the points by 203 with just two point events left in the season.
As usual, the Street Stocks put on a spectacular show with point leader Brandon Zachary coming out on top of a terrific duel with fast qualifier Mike "Bubba" Brooks. Tom Rutherford finished third ahead of Shane Miller and Kyle Ribble, who entered the night tied for the point lead. Defending champion Greg Brown finished sixth beating out Jerry Pierman, 2017 champion Zack Cook, Doug Gallandt and Andy Rutherford. Cook and Pierman collected the heat race victories. Zachary now leads Ribble by just 23 points with two point events left in the season.
Pete Doxey drove from deep in the field all the way to victory lane in the Outlaw FWD feature. Fast qualifier Paul Bittle finished second ahead of point leader Adam VanAvery, Dave Leonard Jr. and Nick Layman. Andrew Peters finished sixth beating out Wayne Stack, John Munro, Clyde Milliken and Camille Lewis. Adam VanAvery and Layman won the heat races. Adam VanAvery now sits just 25 points ahead of Pete Doxey in the championship battle, with Corey Woods (-114) in third.
Nick Failing picked up the victory in a very competitive Zoo Stock feature. Matthew Elsey was the runner-up beating out Ed Clawson, Jorden Brinkert and Logan Hiemstra. Logan Meade led the second half of the top ten over point leader Rielly Meade, Regan Powell, Maggie Zwart and Matt Elsey. Notable finishers included Ross Bergman and Jared Blanchard, who finished 18th and 20th respectively. Grant Lofquist was the fastest of the 42 qualifiers. Failing, Rielly Meade, Roger Zimmerman and Bryce Peters collected the heat race wins while Bill Evink won the 'B' Feature. Rielly Meade now sits 39 points ahead of Brinkert with Matthew Elsey (-67), Hiemstra (-104) and Blanchard (-145) also still in the title hunt.
Next on the schedule is the biggest event of the season, Kalamazoo Klash XXVII, coming up this WEDNESDAY, August 7. Over 30 Outlaw Super Late Models are expected to make a run at the $10,000 prize while over 20 ARCA/CRA Super Series drivers have registered for their $5,000 to win event. Racing will start at 7:00pm sharp. For more information visit www.kalamazoospeedway.com.