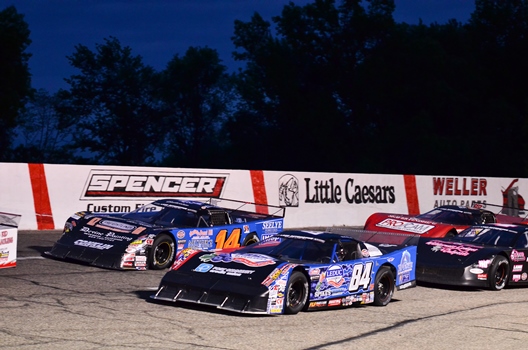 "Bubba" Becomes Fifth Different Winner in Five Races @ the Zoo
kalamazoo
Defending champion Mike "Bubba" Brooks held off a hard charging Mark Shook to pick up the win in the NASCAR Whelen All-American Series Outlaw Super Late Model feature Friday night at Kalamazoo Speedway.  Fast qualifier Tom Thomas drove from 15th all the way up to finish third ahead of Jeff Bozell and former Plymouth Speedway Late Model champion Adam Terry.  Point leader Rick Senneker finished sixth beating out former South Bend Speedway Late Model champion Brandon Zachary, Jacob Maynard, Jerry Pierman and Tyler Heeney.  Notable finishers included Matt Frazier, whose hard luck streak continued with a 13th place finish.  Chris Garrett and Brooks won the heat races.  Senneker's point lead is now just 38 points over Mark Shook with Brooks (-75), Terry (-81), Frazier (-149) and Thomas (-157) all within striking distance.
Fast qualifier Buddy Head drove from dead last all the way to the front to win the Super Stock feature.  Nick Pressler was the runner-up ahead of David Guarino, Ron Maynard Jr. and Kenny Head.  Rodney Smith led the second half of the top ten over Tyler Hufford, Gary Denzel, 2015 Outlaw Cyber Stock champion Keegan Dykstra and Jordan Hunderman.  Notable finishers included four-time track champion Brandon Lyons, who finished 11th.  Buddy Head and Maynard Jr. won the heat races.  Buddy's point lead now sits at 100 points even over his brother Kenny, with Pressler (-128) and Lyons (-148) also close behind.
Three-time Pro Stock champion Greg Haynes picked up the feature win in the always thrilling Pro Stock division.  Haynes held off two-time track champion Ben Raber, Greg Brown, fast qualifier Matt Corliss and two-time feature winner Mike Zordan for the victory.  Bob Miller ran an impressive sixth ahead of defending Super Stock track champion Buddy Head, Keith Wilfong, Logan Knight and Kyle Ribble.  Notable finishers included Barry Jenkins and Toby Montgomery, who finished 20th and 21st respectively.  Knight and Dave Hopwood won the heats.  Corliss maintains a slim 17 point lead over Brown with Wilfong (-44), Zordan (-118), Montgomery (-118) and Jenkins (-156) all within striking distance.
After setting fast time in the Outlaw Cyber Stock division Dan Rigoni started dead last and drove his way all the way to victory lane in the twenty lap event.  Rigoni made a late pass on Larry Richardson to secure the victory.  Richardson held on for second ahead of Brian Gregersen, Mason Dykstra and Ricky LaDuke.  Danny Rigoni led the second half of the top ten over 2015 Flip Flop Cyber Stock track champion Brock Sweeter, Jeremy Young, Nick Layman and Doug Nelson.  Sweeter and Dion Vrooman won the heat races.  Dan Rigoni continues to lead the points, now by 147 over Gregersen.
Young Lane Head, son of Super Stock track champion Buddy Head, drove to an impressive victory in the Flip Flop Cyber Stock feature.  Josh Nyberg finished a solid runner-up beating out Joey Failing, Nick Failing and Tony Lobretto.  Opening night feature winner Valerie Bozell finished sixth ahead of Bill Evink, Kyra Donald, Chris Letts and John Letts.  With the victory Lane Head moves to the top of the points over Lobretto (-21), Joey Failing (-42), Bozell (-82), Travis Reniger (-82) and Nick Failing (-124).
This WEDNESDAY, June 8 one of the biggest events in Kalamazoo Speedway history takes place with the running of the inaugural Gary Terry "Follow Your Dreams" 125 Presented by Quick Fuel Technology.  The event will pay $5,003 to the race winner and an incredible $1,003 just to start the event.  It will be a 125 lap race with no segment breaks, exactly like last year's Kalamazoo Klash, which received tremendous feedback from fans and drivers alike.  There will also be a $1,003 to win Pro Stock/Street Stock Rumble, which promises to draw cars from all over the Midwest.  37 Outlaw Super Late Model drivers and 24 Pro Stock drivers are already registered to compete in this event, with more expected.  One lucky fan will also win a FREE Rent-a-Ride to be used during the 2016 season.  Practice for the event will take place this Tuesday, June 7 from 6-9pm.  Grandstand admission is FREE with 2 canned goods.  Although the weather looks perfect, in the event of rain the race would be run Thursday, June 9.
Kalamazoo Speedway will be the place to be in 2016 for fast, clean, family fun! The full 2016 Kalamazoo Speedway Schedule can be viewed at www.kalamazoospeedway.com. Kalamazoo Speedway plays host to some of the best entertainment events in the State and welcomes corporate groups, family outings and suite rentals. Call 269-692-2423 Monday through Friday to learn more or visit the Kalamazoo Speedway website.
For all the latest news and contests check out www.facebook.com/KalamazooSpeedway.
You can also follow Kalamazoo Speedway at www.twitter.com/kzoospeedway.