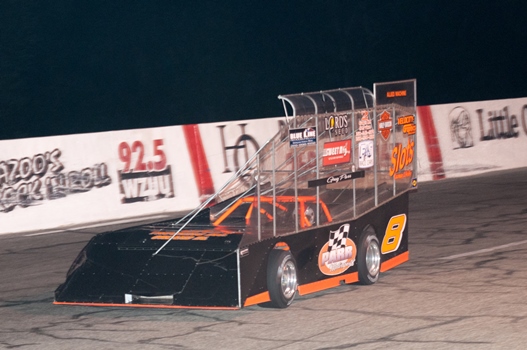 Bozell Wins Call of the Wild; Shewchuk Breaks World Record
kalamazoo
12-time Outlaw Super Late Model champion Andy Bozell won the fifty lap "Call of the Wild Presented by Raceceiver and Howe Patio & Windows" but lost his world record to second place finishing Mike Shewchuk, who ran a lap of 9.924 seconds at 136.034mph. Outlaw Super Late Model champion Mike "Bubba" Brooks finished third ahead of Jeff Bozell and Jim Bailey. Rick McMullen led the second half of the top ten over Tim Craig, Jack Cook, Marc Casey and Cory Pressler. Zach Henderson won the 'B' Feature.
Andrew Brest picked up the victory in the twenty-five lap Outlaw Mini Stock feature. 2015 Mini Stock champion Logan Knight was the runner-up beating out Brian Echtinaw, Donnie Brest and Kyle Shannon. Former Mini Stock track champion Frank Stager set quick time.
John Neal put on an impressive driving display to pick up the win in the Outlaw FWD feature over fast qualifier Todd Metz Jr., Todd Metz Sr., Jeff Sayles and Outlaw Cyber Stock champion Keegan Dykstra. Travis Loop wound up sixth ahead of Tyler McGhan, Kyle Brigance, Dylann Uminn and Johnny Hyder. Steve VanVleet collected the victory in the 'B' feature.
This Saturday, September 19 is the annual Night of Destruction Presented by LKQ!  This event will feature bus races, monster trucks, FMX motorcycles and much, much more!  The event will start at 7:30 sharp.
Kalamazoo Speedway plays host to some of the best entertainment events in the state of Michigan, and welcomes corporate groups, family outings, suite rentals, and clean family fun. Call 269-692-2423 Monday through Friday to learn more!
For more information on Kalamazoo Speedway visit www.kalamazoospeedway.com.
Be sure to become a fan of Kalamazoo Speedway for all of the latest news and contests at: www.facebook.com/KalamazooSpeedway.
You can also follow Kalamazoo Speedway on our official Twitter page: www.twitter.com/kzoospeedway.