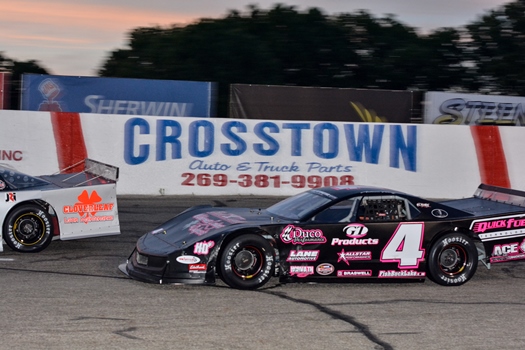 Adam Terry Ready to Race, Win Brother's Memorial Race
kalamazoo
When the green flag flies on Wednesday night for the inaugural Gary Terry "Follow Your Dreams" 125 at Kalamazoo Speedway (MI) emotions are sure to be high, not just on the race track, but for those who knew the former Kalamazoo champion.
When Gary Terry lost his life in an auto accident on April 12, 2015, his loss was felt around the entire racing community, especially in Michigan and Indiana where he raced for so many years. A year later the community is coming together in his memory and to show support for the Terry family, a family where racing runs deep throughout.
One member of the Terry family, Gerry's brother Adam, continues to race the short tracks of the Midwest including Kalamazoo Speedway.  Despite many mixed emotions, he will strap behind the wheel of an Outlaw Super Late Model Wednesday night and race in memory of his brother.
"It's cool to see all the racing teams come together and help make the event possible." Adam Terry told Speed51.com powered by JEGS. "It is certainly going to be an emotional night for me, but once you get behind the wheel all that goes away. We will reflect on it once after it's done.  It's tough, I've never wanted to have to do a memorial race for my brother, but circumstances put it to where we are."
The idea of an event to honor Gary has been on the table for the last year, but it was this past off season that the Terry family felt the time was right to come together with owner/promoter Gary Howe and the rest of the staff at Kalamazoo to put the plans together.
"It's something that came up last year after his passing, nothing we were ready to do last year," Adam Terry explained.  "During the off season we got together with Gary Howe and a couple of the other officials and talked about what we might be able to do and how to make it a special night. We wanted to honor him and make it a good event for the Speedway.  It was how to make it come together in both regards, how to make it a truly special event for the racers, fans, and everyone involved."
Now with the big night of racing looming ahead, there is one goal that Adam has for the evening.  That goal is to win the inaugural race in honor of his brother.
"I think we got a car capable of being at the front," he said.  "It just matters if we can keep the fenders on it, stay out of trouble and be there at the end. I think we can do it.  The last couple of weeks, we have been focusing on Kalamazoo and not traveling anywhere, just trying to dial in the car for there. We certainly think we have a long-run car."
The inaugural Gary Terry "Follow Your Dreams" 125 will be available to watch via a pay-per-view broadcast on Speed51.com Wednesday night.
-By Connor Sullivan, Speed51.com State Editor (CT, MA, LI); Twitter – @Connor51CT