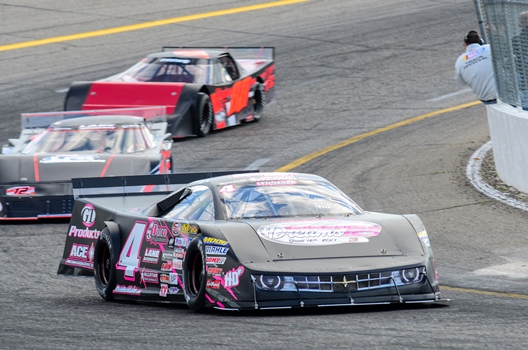 Adam Terry Picks Up Popular Victory @ the Zoo
kalamazoo
Adam Terry made an outside pass on a late race double file restart to take the lead and never look back to pick up one of the most popular victories in recent memory in Friday night's NASCAR Whelen All-American Series Outlaw Super Late Model feature at Kalamazoo Speedway. Terry held off Matt Frazier, Todd Harrington, Tom Thomas and Doug True, who finished second through fifth, respectively. Rick Senneker led the second half of the top ten over Chris Garrett, 1995 Super Stock champion Billy Shannon, Andrew DeVreese and fast qualifier Mark Shook. Frazier and Jeff Bozell won the Australian Pursuit races earlier in the evening. Shook, the defending champion, now holds a slim three point lead over Frazier with Terry (-11), Thomas (-16) and Harrington (-20) rounding out the top five.
For the second week in a row the Super Stock division put on a fantastic race. Also for the second week in a row Nick Pressler ended the night in victory lane. 5-time champion Buddy Head finished as the runner-up ahead of fast qualifier Keegan Dykstra, Adam VanAvery and 4-time track champion Kenny Head. AJ Foote finished a solid sixth beating out Josh Trammell, David Guarino, Ron Maynard and Matt Maurer. Notable finishers included Cory Pressler (13th) and Eric McGlothlen (16th), who entered the night as the point leader. Despite being shut out of victory lane so far this season Buddy Head finds himself back in a familiar position, atop the point standing. Buddy leads Nick Pressler by just eight points with Dykstra (-15), Kenny Head (-19) and McGlothlen (-46) rounding out the top five.
Keith Wilfong drove from deep in the starting lineup all the way to the front and held on to win the Pro Stock feature. Zack Cook ran an impressive second ahead of Greg Brown, fast qualifier Kyle Ribble and Brad VanAvery. Bob Miller ended up sixth beating out Shane Miller, Jerry Pierman, Barry Jenkins and Matt Elsey. Wilfong now holds a very slim four point advantage over Brown with Cook (-17), Ribble (-20) and Bob Miller (-41) completing the top five.
Larry Richardson came out on top of a thrilling late race duel with Nick Layman to win the Outlaw Cyber Stock feature. Layman held on for second ahead of Jeremy Young, Ryan Hufford and opening night winner Sean Elkins. Doug Nelson finished sixth ahead of Justin Hardy, Ricky LaDuke, CJ French and Kenny Wright. Richardson also now leads the points over Layman (-18), Hardy (-19), Elkins (-33) and Young (-40).
The Flip Flop Cyber Stock feature saw young Valerie Bozell emerge victorious over Grant Lofquist, Joe Failing, Tony LoBretto and Nick Failing. Rent-a-ride driver Christopher Rose finished a solid sixth beating out Brandon Sweat, Jason Carter, Juliet Sweeter and Renae Letts. Bozell leads the points after two events over Nick Failing (-23), Joe Failing (-28), LoBretto (-41) and Lofquist (-70).
This Friday, May 12 fans can witness another full 5 in 1 NASCAR Racing Program featuring the NASCAR Whelen All-American Series Outlaw Super Late Models. Also in action will be the Super Stocks, Pro Stocks, Outlaw Cyber Stocks and Flip Flip Cyber Stocks. During intermission will be the first Truck/SUV spectator drag event of the season. Also it will be the second "Student Night" of the year where all students K-12 will be admitted for FREE!! High school students will need to show their ID to be granted FREE admission.
Kalamazoo Speedway will be the place to be in 2017 for fast, clean, family fun! Kalamazoo Speedway plays host to some of the best entertainment events in the state and welcomes corporate groups, family outings and suite rentals. Call 269-692-2423 Monday through Friday to learn more or visit the Kalamazoo Speedway website.
For all the latest news and contests check out www.facebook.com/KalamazooSpeedway.
You can also follow Kalamazoo Speedway at www.twitter.com/kzoospeedway.