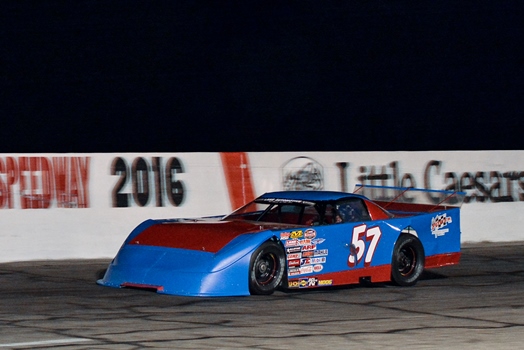 2017 Kalamazoo Speedway Schedule & General Announcements!
kalamazoo
As another calendar year comes to an end, the Kalamazoo Speedway family is thankful for a fantastic 2016 racing season! Thank you for your support and for your friendship. We introduced a lot of new features in 2016 for fans, race teams and track employees and with a bit of perseverance and patience on all of our parts, it worked out well. And it sure was nice to get our two-day weekends back!!
2017 Racing & Events Schedule
We've tried to keep the emphasis on our five weekly race programs while making sure there is plenty to entertain our diverse audience. Below are a few highlights of the upcoming season at Kalamazoo Speedway.
Friday, April 28 marks the Zoo's 67th consecutive Season Openerfor the five weekly classes and features the Intimidator 100 for the Outlaw Super Lates – $2,000 to win and $400 to start.
Testing, testing, testing. The first open hot lap session runs from noon to 5 PM on Saturday, April 15. The second session runs from noon to 5 PM on Saturday, April 22. The final testing session runs Wednesday, April 26 from 5:00 – 8:30 PM. The last 90 minutes of all three sessions will feature a mock group qualifying/hot lap session that will be used each weekly race night.
Kalamazoo Speedway offers two of the biggest Outlaw Super Late races in the Midwest on its 2017 schedule! On Wednesday, June 14, we are honored to again host the Gary Terry "Follow Your Dreams" 125, paying $5,000 to win and a cool $1,000 just to qualify for the elite 22 car field. Throw in a $1,000 to win Pro Stock Special and you have the first huge Midwest race event of 2017. Two months later (Wednesday, August 9) is the granddaddy of them all, the 25th running of the Kalamazoo Klash! Add in the ARCA/CRA Super Series to the radical Outlaw Super Lates and it's no wonder the event is regarded as one of the top 5 events in the nation.
For our die-hard sprint car fans, Kalamazoo Speedway will be hosting the winged sprints on two different nights in 2017. Some of the world's fastest short track cars, the Auto Value Bumper to Bumper Winged Super Sprints presented by Royal Purple Synthetic Oil, will be trying to slay the high banks of Kalamazoo Speedway, the world's fastest 3/8 mile oval. The lightning fast 900HP sprinters will open up their season on Friday, June 2 as the headliner of the Outlaw Night of Speed! The Outlaw Winged Super Sprints will team up with our Outlaw Super Late Models and the Outlaw FWD's DOT Tire Spectacular to create a night of "Outlaw Specials." Then, Thursday, July 20, the Royal Purple King of the Wings National Tour – 2017 will be making their first ever trip to Kalamazoo Speedway. Sprint Car drivers from the west coast will be clashing with the Midwest hot shoes, as they run the inaugural Gordy Hubbard Memorial Race.
Two of the biggest Crash & Bash Spectacles are on the schedule for 2017. Mark your calendars now for Saturday, July 1 as Red, White & Boom promises to light up the sky and shake, rattle & roll all of Kalamazoo County with the Largest Fireworks Spectacular ever! And then for the event that has people looking on in disbelief year after year, it's none other than the legendary Night of Destruction on Saturday, September 16. Thrills, Spills, Stunts, Monster Trucks, Novelty Races, Bus and Trailer Races! It's unique entertainment for the entire family with Fireworks to top it off.
General Announcements
Student ID Night will be offered for the month of May. All middle and high school students with a valid school ID will be admitted FREE into the grandstands. Then we'll be offering a monthly Teen Night throughout the rest of the regular season; teens 15 and under will get in for just $2.
Kalamazoo Speedway needs your help! Please tell your friends, your coworkers and your neighbors about the affordable, fun, family friendly and safe sporting events offered at Kalamazoo Speedway!! Encourage new folks to follow your team or race program!
For all of you arm chair quarterbacks out there or for those of you wanting an exhilarating experience, the Rent-a-Ride car rental program might just be your ticket! This was a huge success in 2016, introducing the insides of the sport to dozens of rookie drivers last year. This makes a great gift for that race fan in your life, but hurry, available dates are filling up fast. Call Kenny at the Speedway office (269) 692-2423.
Nascar Licenses are required for all drivers in all sanctioned classes by opening night. Every driver must purchase a NASCAR license to be able to run on opening night. If you are not planning on running the entire season, you may purchase a temporary 15-day license which allows a driver to run 3 consecutive Friday Temporary 15-day licenses are $50 for the Outlaw Super Lates and $25 for any of the other Nascar sanctioned classes and may be purchased at any time during the season. The GTFYD 125, KLASH, Call of the Wild and Super Shoe are NOT NASCAR sanctioned events – no NASCAR license required. If you had a Nascar License in 2016, you can renew your license by clicking on the "Renew NASCAR license" icon on the Speedway website. For more NASCAR licensing information, contact the speedway office M-F from 8:30-4:30 at (269) 692-2423. All license applications and other required paperwork will be available at all three practice sessions. You will need your Nascar license in order to get your transponder each night.
A 2017 Driver Information Sheet must be filled out and turned in before any payouts will be made. Even if you've raced with us for years, a new sheet must be completed. please take the time to complete and turn in the paperwork during one of the three open practice sessions.
Grandstand & Pit Pass Punch Cards are available at greatly discounted prices. Pit pass punch cards will only be sold to drivers or crew members who have a Nascar Both punch cards are a great value; contact the Speedway office (269) 692-2423 for more information.
Reserved Parking Spots are now available in the upper and lower pits for the 2017 season. You have until January 20 to claim last year's spot before all remaining spots are sold on a first-come, first-served basis. Spots are not considered reserved until they are paid in full. Reserved spots will only be sold to teams that are racing full time at the Speedway in 2017. If you are interested in a reserved spot contact Kenny at the Speedway office at (269) 692-2423.
VIP Skybox rentals are available for weekly or full season rentals. Heated and air conditioned 8 and 16 person skyboxes are available. There's no better place to watch the action than high above the race track. Call the office for details.
Kalamazoo Speedway is your Friday Night Entertainment Hotspot!!!
Please e-mail (gary@kalamazoospeedway.com) or call the Speedway office, (269) 692-2423, if you have any questions. Thank you and see you all in April at Kalamazoo Speedway!