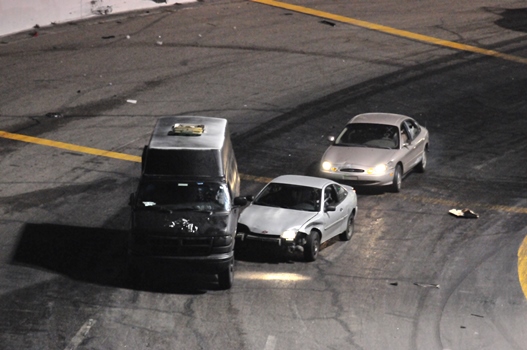 2015 Night of Destruction Presented by LKQ Event Descriptions
kalamazoo
Push car race- Teams of 2, 1 running "push car" and 1 disabled car, will have to make ____ laps around the speedway. Both cars must cross the start finish line in order for it to count as a complete lap. Oh and the disabled car will be pushed backwards. (The disabled cars, if drivable, can be driven to the start finish line. Once there the battery will be disconnected.)
Moving Flag Pole race- 2 vehicles with flags mounted on the top will be moving around the racetrack. Each car will have to make a complete 360 around each van each lap. Failure to do so will cause the driver to not be scored for that lap.
Gauntlet Race- V8's vs Compacts. 2 or more V8 cars will be on the track with a field of compacts. It's the compacts job to try and disable the V8 cars. It's the v8 cars job to try and survive the chaos.
Trailer race- Any car that can pull trailer is able to participate in this event. (Track officials have the right to refuse any vehicle from running based on; car safety, rules infraction, any car that we feel has a greater advantage over any other of the participants.) Each car must have a minimum of 11' trailer or a trailer that weighs at least 350 pounds. Payout for this event is as follows: 1st– $500, 2nd– $250, 3rd– $150, 4th-$75. Get creative with your trailers. *Once your trailer comes unhooked you will not be scored. Top 4 cars with trailers still attach will be considered the top 4.)
Tug of War- Teams of 2 cars will battle it out in a tug of war type event. 2 cars will be chained together trying to pull each other over the line. While their teammate helps them by trying to push the opponent.