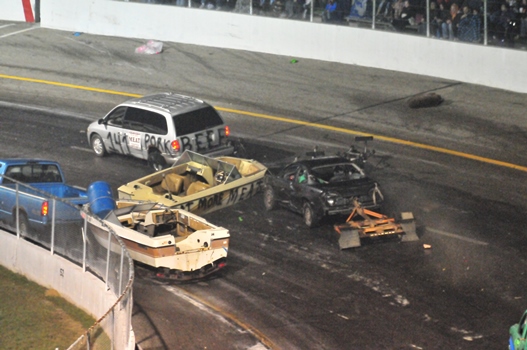 2015 Night of Destruction Participant Information Sheet
kalamazoo
Information for Participant's at Kalamazoo Speedway's
 2015 Night of Destruction (September 19th)
Attention all enduro drivers or anyone looking to have a fun evening playing out on a big old paved race track…..If you have an old race car, minivan, pickup truck or even your mother in laws old Buick and are looking to put the old girl down in her final resting place (no no, not your mother in law….her car) ……then why not do it in front of 6000 screaming fans at Kalamazoo Speedways Night of Destruction on September 19th?!?!?!
Kalamazoo Speedway is looking for participants with their own vehicle to partake in one or more of several planned racing events at this year's NOD!! However, Safety is utmost important for us & everyone involved in this event, so we can all have a great time. The following is a short list of safety items all participants & their vehicle will be required to have:
A full fire suit is highly recommended, however a fire suit top is mandatory.
A full racing helmet is required and racing gloves are highly recommended.
A 4 point racing harness is highly recommended. A seat belt & shoulder strap is mandatory.
A partial windshield is required or the use of safety bars over the front of the driver in the windshield opening will be allowed as long as the driver has a full faced helmet with a full fire suit.
All doors and hatch back cars need to have the doors & hatches bolted welded or chained shut. A Steel plate welded or bolted over the driver's door is highly recommended. A window net over the driver's door is highly recommended.
All side windows must roll down 100% or must be removed. Rear window is OK.
Trailer Race Rules above & beyond the above rules: Steel plate over the driver's door and a window net securely fastened is mandatory!  
Some of the events that we need participants with their own vehicle for would be:
Trailer Races – Vehicle with a minimum of an 11' long trailer or one weighing approx. 350 lb min. The track has the right to disallow any trailer race vehicle that takes away from the novelty of the event.
Gauntlet Races
Moving Flag Pole Race
Push Car Race -Two cars (only one needs to run) and two drivers needed for this this event
Seek & Destroy
Road Rage Race
Compact Demo Derby for any of the cars that are still running at the end of the chaos!
Participant Payoffs for NOD – All drivers bringing in a vehicle to participate in the NOD events will receive: Two comp pit passes as well as $50 cash. Additional payoff for events will be as follows:  
Trailer Race (must have your own vehicle & trailer)   $500 to win     $250 – 2nd     $150 – 3rd     $75 – 4th
Compact Demo Derby     $200 to win   $100 – 2nd     $75 – 3rd
All moving on track events will pay   $75 to win
Spectator Race – $250 to win – $100 runner up   Street Legal Cars Only & Kalamazoo Speedway has the right to refuse any cars that take away from the novelty of this event. If you have a sports club car that race on road courses and such, you will not be permitted to race in the Spectator Drags. This is open to the first 16 cars that sign up at the track.
****All participants must be able to be at the track by 12 Noon on race day. Please contact us ASAP via email at gary@kalamazoospeedway.com or by calling the office M-F from 8-5 to give us your contact info as well as letting us know what events you are interested in participating in and what type of vehicle(s) you are planning on bringing!   If you have any questions or idea's, get ahold of the NOD Foreman – Drew at 269-512-4551 or Brock at 269-317-9784.
[gview file="http://www.kalamazoospeedway.com/wp-content/uploads/2015/09/2015-Night-of-Destruction-Participant-Information-Sheet.pdf"]