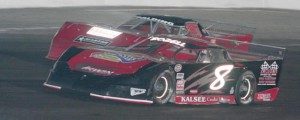 Outlaw Super Late Models The Outlaw Super Late Models are Kalamazoo's premier division. These outlaw bodied racecars have a full tubular frame, quick change rear ends, and have coil over suspension. Their engines are a cast iron block, but that is about the only OEM part on the drive train of one of these rocket fast cars. You will find the best of the best drivers in this class, with drivers that race weekly coming from 3 states & Canada. Outlaw Super Late Models will run several races of 100 laps & more, with some of their purses paying out anywhere from $30-50,000. These cars will average approximately 108 mph, with top speeds cresting over 115 mph. You can expect laps in the mid to upper 12 second bracket, while racing 2 and 3 wide around the high banks of the Zoo. An average Outlaw Super Late Model will have upwards of $40-50,000 into a typical operation.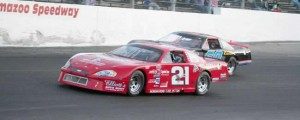 Super Stocks The Super Stocks feature a great looking stock style template body; very similar to a Sprint Cup car that you would see on TV. These cars can run either a stock or fabricated chassis and will race on 8" wheels & tires compared to the 10" wheels of a Outlaw Super Late Model. These Super Stock cars that race at Kalamazoo as our third division are many tracks top division cars. Faster than the Pro Stocks, the Super Stocks run laps in the upper 13 second bracket.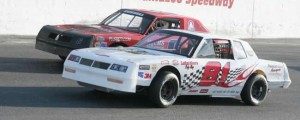 Pro Stocks If you are looking for action, keep your eyes on this class, as they will never fail to make the race night exciting. These cars are American made, rear-wheel drive cars with a stock frame & relatively stock suspension. These cars run about a 15 second lap around the high banks of Kalamazoo Speedway, and will usually be trading paint with one another, as three wide action is common practice for these hot rods. Powered by 350 or 400 cubic inch Chevrolet engines, you will see a ton of horse power on a smaller tire, creating one of the wildest features of the night!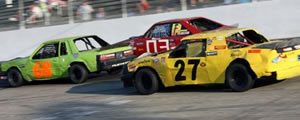 Mini Stocks The Mini Stocks will be the newest weekly class racing at Kalamazoo Speedway. These rear wheel drive Four Cylinder racecars are mainly built on a new style Mustang chassis. With their light weight design and high revving four cylinder high-output engines, don't let the words "four cylinder" give you the wrong idea, as these cars fly and will be a very racy class added to already the best group of a weekly race program that any track in America has to offer!!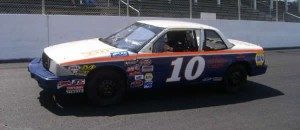 Cyber Stocks The Cyber Stocks is Kalamazoo Speedway's entry level division. This is our lowest dollar class for the beginner drivers, meant to teach young drivers the do's & don'ts of short track racing as well as for people that just want to have fun, and not spent a ton of money. They put on a great show while introducing new people to the wonderful world of short track racing. You can build your own race ready Cyber Stock for less than $1500.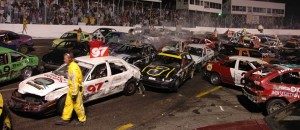 Four Cylinder Enduro's For the ultimate entertainment spectacle found on four wheels, you owe it to yourself to come out to the Zoo & see a Four Cylinder Enduro event. These four cylinder front wheel drive cars are gutted out & have a roll cage, racing harness, & window net added for safety and then are hitting the pavement, with somewhere between 125 and 175 cars on the track all at one time! Sometimes these cars go clockwise; other times they race going the other direction, you just never know which way they are going to go. Whether you are 5 or 85 years old, whether you are a big race fan or not, we will guarantee that you will bust a gut by the time one of these events are finished.