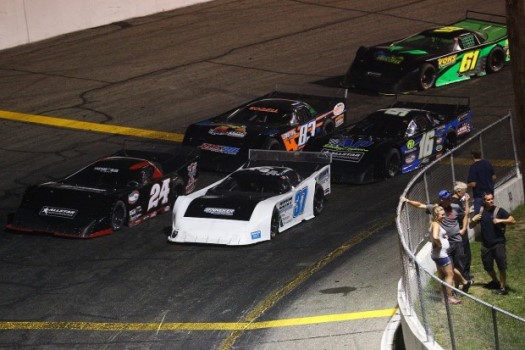 Wayland's Terry Senneker wins Kalamazoo Klash XXIV at Kalamazoo Speedway
kalamazoo
Terry Senneker made history Wednesday night at Kalamazoo Speedway.
The Wayland native captured the 125-lap Kalamazoo Klash XXlV, marking the fifth time he has won the race. Senneker is the first driver to win five Kalamazoo Klash races.
"We really worked hard on the car for this race and it paid off," Senneker said. "This is a special one."
While Senneker finished 2.247 seconds ahead of Roahrig, the two battled for the lead over the course of the final 30 laps.
With about 27 laps to go, Roahrig passed Senneker, but it did not last long. After a caution flag restart, Senneker regained the lead with 14 laps remaining. Shortly after, another caution was issued.
Senneker did not relinquish the lead after that point.
"That's the way you want to win right there," Senneker said. "You don't want it handed to you.
"You want a good car, but you want to work for it because that's what everyone is here for."
Brandon Lyons, Brian Bergakker and Andy Bozell finished third, fourth and fifth, respectively.
Earlier in the night, Justin Schroeder qualified for the Kalamazoo Klash XXIV by winning the Last Chance race. He finished 15th in the Klash.
Mike Brooks and Matt Crafton also qualified for the main event. Brooks was the highest driver in current Kalamazoo Speedway Outlaw Super Late Model point standings, while Crafton was a promoter's exemption. They finished 7th and 16th, respectively. Last year's winner, Jeff Ganus, finished 18th.
Brian Campbell captured the ARCA/CRA Super Series race, topping Byron's Erik Jones, who recently signed a contract to race in the NASCAR Sprint Cup Series in 2017. 
Story by Justin Dacey (Mlive.com)