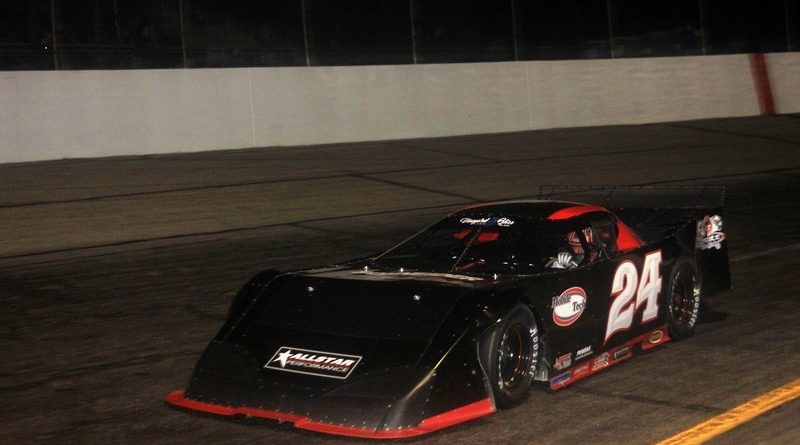 Tyler Roahrig Wins Second Consecutive Intimidator 100 @ the Zoo
kalamazoo
Tyler Roahrig started 2017 off Friday night by going back-to-back in the Kalamazoo Speedway's season opening event, the "Intimidator 100". Roahrig, who drove from 14th starting spot to win the event last year, started all the way back in 16th position after being the fastest qualifier earlier in the evening. Defending NASCAR Whelen All-American Series Outlaw Super Late Model track champion Mark Shook finished second ahead of Matt Frazier, four-time Limited Late Model track champion Brandon Lyons and Todd Harrington. Three-time champion Mike "Bubba" Brooks led the second half of the top ten over 2016 NASCAR Whelen All-American Series Michigan State Champion Tom Thomas, Adam Terry, 1995 Super Stock champion Billy Shannon and Dustin Lundgren. Lyons won the 20 lap last chance race.
The Super Stocks put on a thrilling event with Nick Pressler picking up the opening night victory. Eric McGlothlen finished a very close second ahead of Cory Pressler, Jon Beach and five-time champion Buddy Head. Rookie Ryan Minton ran an impressive sixth beating out fast qualifier Kenny Head, Ron Maynard, 2015 Outlaw Cyber Stock champion Keegan Dykstra and Rich Boal.
Fan favorite Keith Wilfong charged from deep in the field of 21 Pro Stocks to pick up the checkered flag. Wilfong held off a late charge from Greg Brown, who set quick time earlier in the evening. Zack Cook ran an impressive third ahead of Bob Miller and Kyle Ribble. The second half of the top ten was led by Brad VanAvery over Barry Jenkins, Josh Zordan, Josh Roberts and Steve Smith.
The Outlaw Cyber Stock division put on a good show as well with Sean Elkins picking up the win in the 20 lap feature. Larry Richardson finished second ahead of Nick Layman, Jeremy Young and Justin Hardy. Doug Nelson finished sixth beating out Ricky LaDuke, Ryan Hufford, CJ French and Taylor Sexton. Defending champion Dan Rigoni was the fastest qualifier.
Valerie Bozell set quick time, started dead last and almost drove the victory in the Flip Flop Cyber Stock feature but in the end was held off by a very impressive Nick Failing, who collected the opening night victory. Bozell would have to settle for second ahead of Denver Sweat, Joe Failing and Tony LoBretto. Kevin Seat finished sixth ahead of Renae Letts, Juliet Sweeter, Kyra Donald and Brandon Sweat.
This Friday, May 5 celebrate "Cinco de Mayo" with all of your friends at Kalamazoo Speedway! There will be a full 5 in 1 NASCAR Racing Program featuring the NASCAR Whelen All-American Series Outlaw Super Late Models. Also in action will be the Super Stocks, Pro Stocks, Outlaw Cyber Stocks and Flip Flip Cyber Stocks. The night's preliminary event will be the fan favorite "Australian Pursuit Races". Also it will be the first "Student Night" of the year where all students K-12 will be admitted for FREE!! High school students will need to show their ID to be granted FREE admission.
Kalamazoo Speedway will be the place to be in 2017 for fast, clean, family fun! Kalamazoo Speedway plays host to some of the best entertainment events in the state and welcomes corporate groups, family outings and suite rentals. Call 269-692-2423 Monday through Friday to learn more or visit the Kalamazoo Speedway website.
For all the latest news and contests check out www.facebook.com/KalamazooSpeedway.
You can also follow Kalamazoo Speedway at www.twitter.com/kzoospeedway.