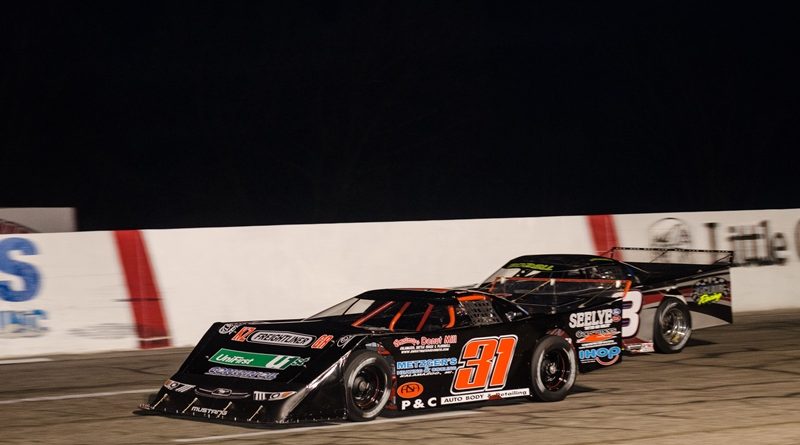 Twin 75's for the Outlaw Super Late Models and NHRA Night at the Zoo on May 25
kalamazoo
Oh my—could May get any crazier?? When the rain rolled in last Friday at 6:15 PM, we dropped our heads and wondered what in the heck are we going to do now: 116 cars in the pits and 500 people already in the stands an hour and a half out from show time. We know the drivers want to race and we can see that our super fans are past ready to watch some of the best short track racing found anywhere.
So, once again, we've changed up our schedule. This Friday (May 25) surely has got to turn the season around and we will finally be able to get the GT Products Intimidator 100 wrapped up. We then will have an action-packed night of great short track racing running the remainder of the May 25 schedule featuring the Street Stocks, the Outlaw FWD's and the Zoo Stocks. But before you leave the track that night, there will be a second big race for the Outlaw Super Late Models, the Lane 75.
Our first event of the night (7:30 sharp) will be the running of the remaining 78 laps of the GT Products Intimidator 100. This race pays $2500 for the top prize and still has 18 of the top Super Lates in the Midwest in the hunt. As soon as the 2018 Intimidator Champion is crowned, bring on the Zoo Stocks, Outlaw FWDs and the Street Stocks for their full show of the night.
The finale for the evening will be the Lane 75 for the Outlaw Super Lates, where up to 24 of the top teams in the Midwest will be trying to capture the second $2500 check of the night. One night, one track and two $2500 to win extra laps Outlaw Super Late Model Features! What a night we have in store! The Zoo Stocks second feature originally scheduled for May 25 will be moved to another night.
Before any of the races get going at 7:10, we'll be having Scooter races on the front stretch with NHRA Top Fuel Driver Terry McMillen being the honorary flagman. Kids bring your scooters and race fans, get ready to see Terry McMillen and his 5 crewmen strap into a Rent-a-Ride for the Zoo Stock Feature event! McMillen handles an 8000 HP Top Fuel Dragster every weekend, how will he fare in one of our Zoo Stocks this week?
And for our 500 or so super fans who braved the rainy forecast last Friday, turn in that $12 rain check and get into this week's $15 event at no extra charge. For anyone holding a pit pass from May 18, turn in your pit pass for a free pass pit pass for May 25.
Let's pack the house and have some rockin' racin!