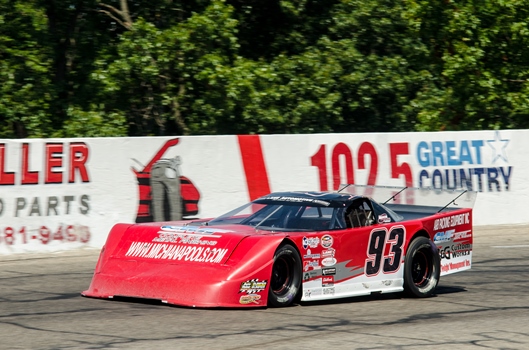 True Goes From Worst to First @ the Zoo
kalamazoo
Veteran Doug True started dead last in the field of twenty NASCAR Whelen All-American Series Outlaw Super Late Models Friday night at Kalamazoo Speedway and still ended the night in victory lane.  True made the winning pass on fast qualifier Tim Curry, who held on to finish second.  Three-time defending champion Mike "Bubba" Brooks kept alive his hopes for a fourth consecutive title with a third place finish ahead of current state point leader Tom Thomas and former South Bend Speedway Late Model champion Brandon Zachary.    Scott Ross led the second half of the top ten over Kevin Sauer, rookie Tyler Heeney, 2013 Outlaw Cyber Stock champion Jack Cook and point leader Mark Shook.  Notable finishers included Matt Frazier (13th) and Rick Senneker (17th), who both fell out of the race while leading.
Eighteen Super Stocks took the green flag for their thirty lap feature and when the checkered flag flew it was a 1-2 finish for the Pressler brothers, with Cory Pressler beating his brother Nick to the line.  Four-time track champion Kenny Head finished third beating out Ron Maynard Jr. and Adam VanAvery.  Defending Outlaw Cyber Stock champion Keegan Dykstra finished a solid sixth ahead of David Guarino, Jake Hopwood, fast qualifier Buddy Head and Marc Casey.
Twenty-two Pro Stocks were on hand for their thirty lap feature and as usual, they put on a fantastic show.  Fast qualifier Greg Brown came from deep in the field to pick up the win and keep his championship hopes alive.  Two-time Super Stock champion Mike Zordan was the runner-up ahead of Kyle Ribble, Keith Wilfong and Travis Hall.  Barry Jenkins finished sixth beating out Bob Miller, Matt Maurer, Josh Roberts and Ryan Minton.  Notable finishers included point leader Matt Corliss, who finished a disappointing 15th.
The Outlaw Cyber Stock division saw point leader Dan Rigoni not be able to compete in the feature after encountering issues earlier in the evening.  That left the door wide open for Brian Gregersen to pick up the feature victory over defending Flip Flop Cyber Stock champion Brock Sweeter, Nick Layman, Jeremy Young and fast qualifier Mason Dykstra.  Doug Nelson wound up sixth ahead of Ryan Hufford, Danny Payne, Larry Richardson and John Kiewiet.
The Flip Flop Cyber Stock division put on a great show with Travis Reniger picking up the victory in the fifteen lap feature.  Point leader Lane Head finished second ahead of fast qualifier Valerie Bozell, Tony Lobretto and Nick Failing.  Joey Failing led the second half of the top ten over Kyra Donald, Cory Sobralaski, Keith Ribble and James Ansell.
This Friday, August 26 the regular season comes to end with Season Championship Night.  The event will be highlighted by a 100 lap feature for the NASCAR Whelen All-American Series Outlaw Super Late Models where the champion will be crowned for 2016.  Also in action and crowning champions will be the Super Stocks, Pro Stocks, Southwest Michigan Mini Stock Challenge Series, Outlaw Cyber Stocks and Flip Flop Cyber Stocks.  The evening will also feature Spectator Drags as well as Soap Box Derby races for the kids at 7:00 on the front stretch!
Kalamazoo Speedway is the place to be in 2016 for fast, clean, family fun! Pick up a copy of the Kalamazoo Speedway schedule at the ticket office or look it up at www.kalamazoospeedway.com. Kalamazoo Speedway plays host to some of the best entertainment events in the State and welcomes corporate groups, family outings and suite rentals. Call 269-692-2423 Monday through Friday to learn more or visit the Kalamazoo Speedway website.
For all the latest news and contests check out www.facebook.com/KalamazooSpeedway.
You can also follow Kalamazoo Speedway at www.twitter.com/kzoospeedway.