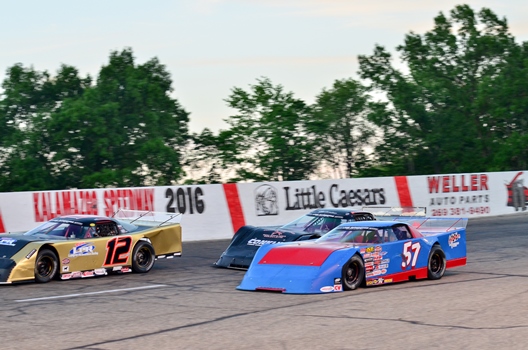 Teen Night, Jeep Night & Great Racing On The Agenda For Kalamazoo Speedway Tonight!
kalamazoo
TONIGHT, July 8 the 2016 Kalamazoo Speedway season continues with a full 6 in 1 show featuring the NASCAR Whelen All-American Series Outlaw Super Late Models, Super Stocks, Pro Stocks, Southwest Michigan Mini Stock Challenge Series, Outlaw Cyber Stocks and Flip Flop Cyber Stocks. In addition to the jam packed racing schedule, tonight is also TEEN NIGHT, where all children ages 6-15 get in for just $2!  As always, kids 5 and under are FREE!  Finally, it is the first ever JEEP NIGHT.  All fans driving a Jeep to the track will be admitted for FREE!  They will also be allowed to park in a designated area and will be invited onto the track to make some laps during intermission.
Two weeks ago, three-time defending champion Mike "Bubba" Brooks became the first repeat winner of the season in the NASCAR Whelen All-American Series Outlaw Super Late Model division.  In addition to Brooks, drivers expected to contend for the victory tonight include point leader Rick Senneker, Mark Shook, former Plymouth Speedway Late Model champion Adam Terry, Tom Thomas and Matt Frazier.
In the Super Stock division, defending champion and point leader Buddy Head is looking to continue building on his momentum but look for 4-time track champion Kenny Head, Nick Pressler and others to try and keep the point leader out of victory lane. Greg Brown picked up the win two weeks ago in the ultra-competitive Pro Stock division but defending champion Matt Corliss, Keith Wilfong, Barry Jenkins and more will be looking to park their cars in victory circle tonight. The Southwest Michigan Mini Stock Challenge Series makes another stop at the Zoo tonight.  Jerime Damron enters the event as the favorite but don't rule out Andrew Brest, Marcus Carlson or several of the other big names in the division.  In the Outlaw Cyber Stocks, Dan Rigoni enters the night as the point leader but Brian Gregersen, Doug Nelson, 2015 Flip Flop Cyber Stock champion Brock Sweeter and the rest of the division will be trying to keep Rigoni out of victory lane for just the second time all season. Finally the Flip Flop Cyber Stocks see Lane Head enter the night as the odds on favorite, while Tony LoBretto, Joey Failing, Travis Reniger, Valerie Bozell, Nick Failing and a whole fleet of Rent-a-Rides look to keep him from picking up another win.
On any given night, anything can happen. Favorites can falter, history can be made. Don't miss out!  Gates open at 4:30, group qualifying starts at 5:30 with racing starting at 7:30.
Kalamazoo Speedway is the place to be in 2016 for fast, clean, family fun! Pick up a copy of the Kalamazoo Speedway schedule at the ticket office or look it up at www.kalamazoospeedway.com. Kalamazoo Speedway plays host to some of the best entertainment events in the State and welcomes corporate groups, family outings and suite rentals. Call 269-692-2423 Monday through Friday to learn more or visit the Kalamazoo Speedway website.
For all the latest news and contests check out www.facebook.com/KalamazooSpeedway.
You can also follow Kalamazoo Speedway at www.twitter.com/kzoospeedway.
If you missed this week's newsletter look below and get caught up on everything happening at the Zoo!
[gview file="http://www.kalamazoospeedway.com/wp-content/uploads/2016/07/Howe-Newsletter-Issue-July-6-20162.pdf"]