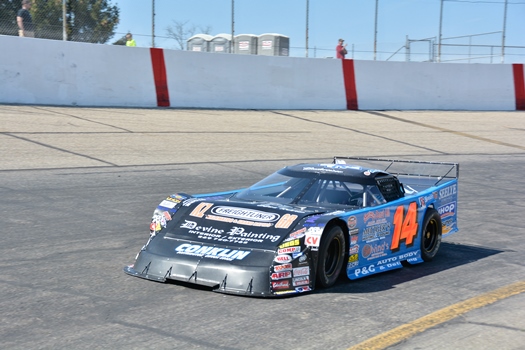 Shook Tops Final Pre-Season Test Before Friday's Intimidator 100 @ the Zoo
kalamazoo
Mark Shook topped the speed charts for the NASCAR Whelen All-American Series Outlaw Super Late Models Wednesday night in the final test session in preparation for the season opening Intimidator 100 coming up this Friday, April 29 at Kalamazoo Speedway.  Shook ran a lap of 12.881 seconds at 104.806mph.  Defending Kalamazoo Klash winner Jeff Ganus was second fastest ahead of 12-time Outlaw Super Late Model track champion Andy Bozell, Matt Frazier and 2015 Galesburg Speedway Late Model champion Todd Harrington.  Former Plymouth Speedway Late Model champion Adam Terry was sixth fastest on the day beating out Jeff Bozell, Brandon Zachary, three-time defending champion Mike "Bubba" Brooks and Jerry Pierman, who rounded out the top ten.
This FRIDAY NIGHT, April 29 the season kicks off with a full 6 in 1 show featuring the Intimidator 100 for the NASCAR Whelen All-American Series Outlaw Super Late Models.  Super Stocks, Pro Stocks, the Southwest Michigan Mini Stock Challenge Series, Outlaw Cyber Stocks and Flip Flop Cyber Stocks will also be in action.  Despite the huge switch to Friday nights, fans will be greeted with several other upgrades when they arrive Friday including the new "Zoo Grill" located in the midway with an excellent new menu, a larger family section with no smoking or alcohol for families to enjoy themselves, a new "teen zone" where teens can hang out and interact together, the return of PEPSI products to the track by popular demand and much, much more.  One lucky fan will also win a FREE Rent-a-Ride to be used during the 2016 racing season!  Also fans, make sure to keep your ticket stubs from the season opener as we will be giving away a Flat Screen TV next Friday, May 6th.  Your ticket numbers from this week will transfer to the TV giveaway on May 6th, so make sure you have your ticket stub from the season opener with you!!  So this Friday night bring your family and friends to Kalamazoo Speedway, the place to be on Friday's in 2016!
Kalamazoo Speedway will be the place to be in 2016 for clean, family fun! The full 2016 Kalamazoo Speedway Schedule can be viewed at www.kalamazoospeedway.com. Kalamazoo Speedway plays host to some of the best entertainment events in the State and welcomes corporate groups, family outings and suite rentals. Call 269-692-2423 Monday through Friday to learn more or visit the Kalamazoo Speedway website.
For all the latest news and contests check out www.facebook.com/KalamazooSpeedway.
You can also follow Kalamazoo Speedway at www.twitter.com/kzoospeedway.