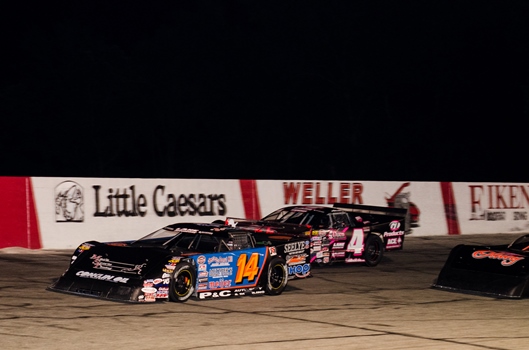 Shook Bests Thomas in Great Late Race Duel
kalamazoo
One of the nicest evenings for the 2017 race season kicked off with 79 cars on the property to compete in five different divisions. Quick time went to Mark Shook in the NASCAR Whelen All-American Series Outlaw Super Late Model division. Buddy Head set fast time in the Super Stock division. The Pro Stock fast time went to Keith Wilfong. Jeremy Young set his first quick time of the season in the Outlaw Cyber Stocks and the Flip Flop Cyber Stock fast time went to Camaron Barthel.
The Outlaw Super Late Models rolled out for their two heat races to start off the night. Their heat race wins went to Rick Senneker and Doug True. Next up was the Flip Flop Cyber Stock division, with Valerie Bozell and Chris Letts taking home wins. Ryan Hufford and Case Roelofs finished first in each of the two Outlaw Cyber Stock heat races. In the Pro Stock division, Bob Miller and Bobby Oxford picked up their heat race wins. The Super Stock division had one heat with Cory Pressler taking picking up the win.
The Flip Flop Cyber Stocks had the strongest showing of cars in their division, with 21 cars starting in the feature event. Chris Letts jumped out to the early lead from the 4th starting position. He held the lead for several laps until being black flagged for breaking out of his qualifying time. Nick Failing then took over the lead. After two cautions, Valerie Bozell was able to take the lead from Failing on a restart. She went on to win the feature. Second place went to Nick Failing followed by Tony LoBretto, Grant Lofquist and Denver Sweat.
Next up was the Outlaw Cyber Stocks. Their field of 14 cars put on a stellar show full of three and four wide passing, going from green to checkered flag. Case Roelofs held the early lead for less than 5 laps before being passed by Ryan Hufford who charged from 8th starting position. He was overtaken by Pete Doxey with two laps to go. Doxey made his way from 13th starting position to win. He was followed by Ryan Hufford, Larry Richardson, Jeremy Young and Case Roelofs.
Greg Haynes pulled out to a dominant lead in the Pro Stock feature. Second through tenth were bunched up racing side by side for the first half of the race, until the caution came out for a stalled car. Haynes was able to hold on to the lead until 5 laps to go when Mike Brooks took over the lead from the 12th starting spot. Brooks was able to wheel Heath Bronkema's Pro Stock to victory lane. Second place went to Zack Cook who was followed by Bob Miller. Greg Brown and Barry Jenkins finished fourth and fifth.
The Super Stock feature was the Pressler brother's show. Nick Pressler held the lead for just a couple laps before his brother Cory Pressler took over. He had a straight away lead when the caution came out for a car spinning in turn 4. With just five laps to go, Cory Pressler was able to hold off hard charging Buddy Head who finished second. He was followed by AJ Foote, Nick Pressler and Kenny Head.
Despite starting deep in the field, current NASCAR Whelen All-American Series Outlaw Super Late Model point leader Mark Shook was not going to be denied, as he drove all the way though the field and collected the victory in the forty lap main event. Shook held off current state point leader Tom Thomas, Todd Harrington, Doug True and Matt Frazier for the victory. Rick Senneker led the second half of the top ten over Carl Burlingham, Dustin Lundgren, rookie Andrew Brest and 1995 Super Stock champion Billy Shannon. Notable finishers included Adam Terry, who was involved in an early accident and finished a disappointing 16th. Shook's point lead now sits at 126 markers over Thomas, with Harrington (-145) also still within striking distance.
This Friday, August 4 Kalamazoo Speedway will play host to another 5 in 1 NASCAR Racing Program featuring the NASCAR Whelen All-American Series Outlaw Super Late Models. It will be the final chance for drivers to tune-up for next Wednesday's 25th annual Kalamazoo Klash featuring Kyle Busch Presented by West Michigan Toyota Dealers. Also in action will be the Super Stocks, Pro Stocks, Outlaw Cyber Stocks and Flip Flop Cyber Stocks. Intermission will see the fan favorite Truck/SUV Spectator Drags.
Kalamazoo Speedway is the place to be in 2017 for fast, clean, family fun! Kalamazoo Speedway plays host to some of the best entertainment events in the state and welcomes corporate groups, family outings and suite rentals. Call 269-692-2423 Monday through Friday to learn more or visit the Kalamazoo Speedway website.
For all the latest news and contests check out www.facebook.com/KalamazooSpeedway.
You can also follow Kalamazoo Speedway at www.twitter.com/kzoospeedway.