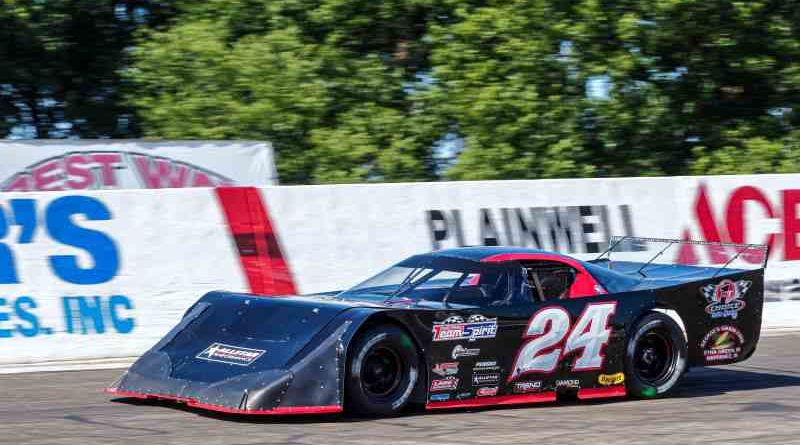 Roahrig Rockets to Emotional Klash Victory
kalamazoo
Tyler Roahrig went into the 27th Annual Kalamazoo Klash without a win in the 2019 season. That changed after Roahrig won the marquee Outlaw Super Late Model event for the third year in a row at Kalamazoo Speedway (MI).
The Plymouth, IN driver took the lead from polesitter Adam Terry on a lap-91 restart and never looked back on his way to yet another checkered flag at the Michigan 3/8ths-mile oval.
Roahrig started 16th after fast qualifier Andy Bozell rolled a 17 for the invert. His march through the field was a slow one until he made the decision to go to the outside lane around the lap-75 mark, quickly moving from seventh to second before a caution on lap 91. With a strong restart, Roahrig claimed the lead from Adam Terry on the inside line en route to victory.
"Honestly at the start of it, I couldn't really go anywhere, no one could for that matter," Roahrig told Speed51.com. We were all kind of single file around the bottom and I don't know if it was the rubber from the template race or what. I had to take a chance on the outside and early in the race, there was no outside but I had nothing to lose at that point.
"I went out there and it was really good out there, I think we passed every car from then on, on the outside. It was a good race with Adam (Terry) and Jeff Ganus, Phil Bozell, Andy, I love racing with all those guys."
At one time a believer a Klash win would not come his way, Roahrig now becomes only the second driver to win the Kalamazoo Klash three years in a row, joining long-time rival Terry Senneker from 2012-2014. Having finished second to Senneker on three different occasions, he joked about getting the upper hand on the head of Senneker Performance if he were to win again in 2020.
"That's pretty cool, Terry Senneker's got three in a row and I've always considered him as one of the best that's ever been in any of these cars, and especially in the Klash," he said. "As far as statistically, he's the most dominant driver in this race. Me and him are the only two drivers that have gotten three in a row and maybe next year if I can get four in a row, I could actually beat him at something in this race.
"Three in a row is awesome, I went from I couldn't do any better than second like three years in a row and now we've got three wins in a row," Roahrig added. "I'm really proud of my team, we worked really hard all year for that matter, it's been a really trying year. I'm glad everything finally came together for the good."
Roahrig dedicated his win to his grandfather Stanley, who passed away last November. He admits the win for the family patriarch was overdue, but it will be one he will always remember.
"I want to dedicate this one to my grandpa, we lost him over the winter and if it wasn't for him, none of us would be racing," he said. "It's hard without him here, but he was here for the last two so I'm proud he was here for those. I really miss him and I've been wanting to dedicate one to him, but it's been a little overdue."
Adam Terry qualified 17th, but would start on the pole after hitting the invert just right. The Intimidator 100 winner from April dominated the first 3/4ths of the race, leading the first 90 laps and holding a five-plus second lead on the field at one point. He would end the race with a career-best second place finish, a far cry from where his team was before the race.
"Before the race, we knew we had an issue with the car. We chased it and chased it before the feature, we made a pretty radical decision and fortunately it worked out as much as it could've," Terry said. "Tyler's the man. We led early, we knew there was a caution coming somewhere between lap 75 and 100 because of the competition caution. I got him at the Intimidator on a restart and he got me today. If we would've gotten out front, we might've been able to stay there. I'm really happy with the way it came out."
Terry would be followed by former Klash winners Phil Bozell and Steve Needles, while JR Roahrig rounded out the top five.
-Story by: Koty Geyer, Speed51.com State Editor (IN/MI) – Twitter: @kgeyer3